The appeal included two requested changes to Xcel's 2012-2013 Compliance Plan that would have improved the business climate for Colorado solar businesses.
July 18, 2012 COLORADO—Today the Colorado Public Utilities Commission (PUC) dismissed an appeal submitted by the Solar Energy Industries Association® (SEIA®) and the Colorado Solar Energy Industries Association (COSEIA) regarding Xcel Energy's renewable energy compliance plan. The appeal included two requested changes to Xcel's 2012-2013 Compliance Plan that would have improved the business climate for Colorado solar businesses, which employ more than 6,000 people in the state. Carrie Cullen Hitt, Vice President of State Affairs at SEIA® and Neal Lurie, Executive Director of COSEIA, issued the following statement.

Carrie Cullen Hitt noted that: "Since the 2004 passage of Amendment 37, Colorado has enjoyed a vibrant solar energy market spurring nearly $1 billion in clean tech investment, deploying 200 megawatts of solar, and creating thousands of quality jobs at more than 400 Colorado companies."
"Unfortunately, today's PUC decision to scale back incentives and limit the number of eligible solar installations sends a troubling message to Colorado solar businesses that the state's desire to attract solar companies and investments is waning. With thousands of jobs at stake, it was imperative that policymakers reconfirm their commitment to building a robust solar industry and we are disappointed that this was not the signal sent by the Commission," Hitt said.
"At the same time, the overwhelming popularity of Xcel's solar program indicates that Coloradans want to get more of their electricity from solar. The PUC's decision to limit the total solar megawatts procured by Xcel will in turn limit installations on ratepayer's homes and businesses. This directly contradicts what the public is telling them and ensures that ratepayers will not have access to a solar program for a significant number of months throughout 2012 and 2013," she added.
Neal Lurie stated that "Given the economic and environmental benefits solar offers to the state, we are surprised that the PUC summarily dismissed our application. Our suggestions would have been easily implemented, with little to no ratepayer impact, and would have improved the business climate for the Colorado solar industry, while also providing a greater opportunity for Coloradans to go solar. It was a 'win-win' proposal for Colorado, and we are baffled by the PUC's decision to deny our request."
"Colorado has invested so much in growing a solar energy industry, and in return the state has received tremendous benefits in terms of good quality jobs, cleaner air, and of course more and more Coloradoans are able to access a path to energy independence. It is a shame that the PUC appears to be veering off course from this commitment with their decision today," added Lurie.
About SEIA®:
Established in 1974, the Solar Energy Industries Association® is the national trade association of the U.S. solar energy industry. Through advocacy and education, SEIA is working to build a strong solar industry to power America. As the voice of the industry, SEIA works with its 1,000 member companies to make solar a mainstream and significant energy source by expanding markets, removing market barriers, strengthening the industry and educating the public on the benefits of solar energy. www.seia.org
About COSEIA:
Established in 1989, Colorado Solar Energy Industries Association (COSEIA) is the award-winning nonprofit association leading Colorado's solar industry. Our mission is to expand solar markets and to generate jobs and prosperity for the people of Colorado. Together with hundreds of solar business members we work to advance solar policy, remove market barriers, highlight emerging trends, and promote solar outreach & education.
Featured Product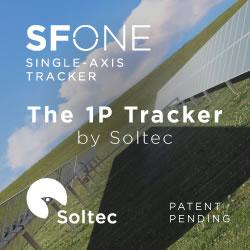 SFOne is the 1P single-axis tracker by Soltec. This tracker combines the mechanical simplicity with the extraordinary expertise of Soltec for more than 18 years. Specially designed for larger 72 an 78 cell modules, this tracker is self-powered thanks to its dedicated module, which results into a lower cost-operational power supply. The SFOne has a 5% less piles than standard competitor, what reduces a 75% the labor time.