Innovative product enables stronger acids and greater pressures to be used for more efficient flow batteries
WALTHAM, Mass.--(Tantaline®, the world's leading producer of tantalum surface alloys for hot acid environments, today announced its general availability for flow battery applications. Faced with corrosion challenges, many emerging battery technology vendors have turned to Tantaline's corrosion resistant products, which include Swagelok fittings , custom plumbing, flanges, vessels, heat exchangers, and cam and groove couplers.

Flow batteries are increasingly seen as a potential piece within the world's renewable energy model. Flow batteries are rechargeable fuel cells that are characterized by two tanks that hold the battery's liquid electrolyte (which are mixed with energy-storing materials). Electrolytes from the cells flow through an electrochemical cell, which then converts chemical energy into electricity. Flow batteries are being developed for use in variable energy sources, such as wind and solar electricity, as the storage capacity of the batteries can serve as the back-up system during times of no wind, night, or intermittent sun.
While flow battery technology offers promise, emerging applications face significant corrosion challenges. Striving for greater efficiencies necessitates stronger, more highly concentrated acids within the battery's liquid electrolyte. These acids, which include sulfuric acid, Vanadium Redox, and Zinc Bromine, are extremely corrosive and threaten commercial viability. Tantaline offers the most corrosion resistant, efficient, and durable set of products to address this market need.
One use case in the renewable energy market today is United Technologies Corporation (UTC). UTC received funding from the Department of Energy's Advanced Research Projects Agency-Energy to develop a next generation flow battery. UTC's battery is a Vanadium Redox regenerative fuel cell using sulfuric acid as its electrolyte. In this application, Tantaline has provided a Tantaline-treated Alfa Laval plate and frame heat exchangers to UTC's application. Tantaline's products have proven to be a key ingredient that can make these new battery technologies commercially viable.
"Flow batteries hold incredible promise for the renewable energy market yet significant corrosion challenges are a barrier for many applications," said Dean Gambale, president of Tantaline Inc. "Tantaline offers producers of flow batteries a unique solution that enables them to go beyond the limits that materials and costs have historically constrained them. By enabling battery manufactures to utilize stronger chemistries, more efficient batteries can be produced, bringing renewable energy one step closer to the commercial market."
How Tantaline's technology works
Tantaline's products are produced by heating and reacting pure tantalum metal to produce a gaseous atmosphere of tantalum. The tantalum vapor creates an alloy bond into stainless steel part's surface, resulting in the most corrosion resistant material commercially available. Following this process, Tantaline's products have the same chemical properties and corrosion resistance as pure tantalum and offer significantly higher corrosion performance compared to HASTELLOY® B, C, and D alloy grades, titanium, and zirconium at costs competitive to them.
About Tantaline
Tantaline is the world`s leading producer of surface alloys for hot acid environments. Through its innovative tantalum surface alloy technology, Tantaline delivers the most corrosion resistant material that is commercially available today. With superior corrosion performance and affordability compared to nickel alloys, titanium, and zirconium metals, Tantaline helps businesses, ranging from global manufacturers to laboratories, reduce costs, increase productivity, and improve safety. A private corporation, Tantaline`s industry expertise includes chemical processing, mining, oil and gas, energy, and pharmaceuticals. To learn more, please visit http://www.tantaline.com or call (888) 268-2586.
Featured Product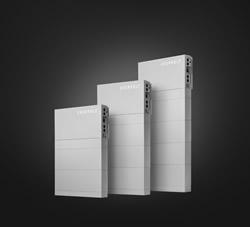 Renewable energy stored in an EVERVOLT home battery system is the perfect backup plan against an uncertain utility grid and weather events. Run key appliances longer and live life when the unexpected happens. EVERVOLT battery storage systems are covered by a complete 12-year warranty from Panasonic.