Partnership with Aconfort - Member of Al Habtoor Enterprises
SAN DIEGO, July 26, 2012 -- Envision Solar International, Inc., ( www.envisionsolar.com ) EVSI -10.00% , the leading solar shaded parking array designer and developer, announced new business development initiatives in the United Arab Emirates, Qatar, and Spain through a partnership with Aconfort - member of Al Habtoor Enterprises, based in the UAE and Spain. The partnership with Aconfort, a leading solar energy company in the Middle East and Spain, will immediately open up broad opportunities in these very important markets.

Envision Solar's President and CEO, Desmond Wheatley, said, "Our Solar Tree® arrays are highly engineered, highly functional and very visually appealing. They are ideally suited for markets where architecture and quality matters. The Middle East is blessed with abundant sunshine, abundant petro-dollars and a taste for the best. Anyone who Googles real estate development in Dubai or the broader region will see immediately that our product is a perfect fit. Our unique EnvisionTrak(TM) sun tracking system and our equally unique structure will fit perfectly with the goals of the most discerning developers in the region. LEED certification is becoming a must in the UAE and our solar parking arrays contribute significantly to LEED requirements. We have considered international expansion carefully and this agreement with the very excellent Aconfort - member of Al Habtoor Enterprises, is the beginning of a major growth opportunity for our company. This is one more reason that we have worked so hard to modularize the Solar Tree® product line so that they can be easily exported and easily installed - anywhere."
Aquilino Ornia, President and CEO of Aconfort, commented, "It is a tremendous opportunity to partner with Envision Solar to expand the Solar Shaded Parking market in the UAE, Qatar and Spain. In the Middle East, the sun shines almost 365 days a year - we must take advantage of this opportunity to capture so much free energy and to also generate clean electricity that will help protect the environment. We selected Envision's Solar Tree® arrays because they are the best and will be most appealing to the markets where we operate. Simple solar parking canopies will not capture the imagination of our clients but they will be very excited by these beautiful solar tracking machines. There is a huge desire to increase solar energy production and to provide Electric Vehicle charging stations to these markets that are undergoing expansive and rapid growth. We have a great road ahead and lots of work to do to ensure that clean energy is our future."
About Envision Solar International, Inc.Envision Solar, www.envisionsolar.com , designs, manufactures and deploys unique, proprietary and architecturally accretive renewable energy systems. The company's flagship products include the patented Solar Tree® and Solar Tree® Socket(TM) solar shaded parking solutions with EnvisionTrak(TM), a proprietary and patent pending solar tracking machine, and SunCharge(TM) Column Integrated Electric Vehicle charging stations. Based in San Diego, California the company integrates only the highest quality components into its Made in America products ensuring long and trouble free service and timeless beautification of the parking lots they serve. This unique approach to the industry allows the company's commercial and institutional customers to take full advantage of the value creation associated with transforming parking lots into beautiful, shaded, renewable energy generation plants shrouded in the "Green Halo." Envision Solar is listed on the OTC Bulletin Board under the symbol [OTCBB: EVSI]. For more information on the company, contact 1-866-746-0514.
About Aconfort
Aconfort began its business in the late 1990s in Spain and has since expanded to UAE where it is a member of Al Habtoor Enterprises. The relationship with Al Habtoor Enterprises provides a platform of support at an international level in the Middle East region to promote solar panel systems and other cutting edge solar systems to help reduce CO2 emissions and protect the environment. Aconfort has a large staff of engineering experts and solar panel installers; and offers post sale service for the maintenance of equipment and installed solar panels. In the fall of 2012, Aconfort will open an office in California to be able to work directly with Envision Solar on projects for our clients in the Middle East and Spain so that we can best satisfy our clients' needs with expediency and efficiency. www.aconfort.es ; info@aconfort.es.
About Al Habtoor
Al Habtoor Trading Enterprises began business in the late 1980's as a General Trading Company and has since diversified its business activities into Automobiles, Construction, Engineering & Project Management, Waste Management, Electro Mechanical, Building Materials, Financial Services, Information Technology, Consultancy, Human Resources, Travel & Tourism and Real Estate. Today, Al Habtoor Trading Enterprises (HTE) operates in Azerbaijan, Syria, and Lebanon with offices in Dubai, UAE and Toronto, Canada with dealers in Armenia, Azerbaijan, Georgia, Uzbekistan and Tajikistan. HTE strives to keep a pace with the growth the UAE has achieved during the last decade. www.htedubai.com
Featured Product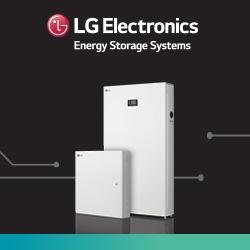 Meet LG Electronics Home 8 Energy Storage System (ESS), a whole home battery backup solution built with installers and their homeowner customers in mind. The ready-to-deploy Home 8 features just one SKU and a modular assembly for fast installation. It can be AC-coupled or solar-powered and is engineered with a grid-connected inverter, four battery modules, and a Smart Energy Box featuring a 7'' LCD touchscreen with commissioning wizard for easy setup. Each Home 8 unit can store up to 14.4 kWh of usable power, helping homeowners gain pure independence from the grid. Plus, installers can connect up to four units, bringing customers up to 57.6 kWh of total backup power-all easily managed and monitored through intuitive mobile apps.