Venus: Orange County Convention Center, Orlando Dates: September 10-13, 2012 Clenergy Booth: 1882
Clenergy recently announced its participation in Solar Power International (SPI) which is North America's largest and most comprehensive solar energy trade show. This premier business-to-business event is jointly produced by the Solar Energy Industries Association (SEIA) and the Solar Electric Power Association (SEPA). Clenergy will display its key PV mounting products, including PV-ezRack SolarTerrace I–B, PV-ezRack SolarTerrace II and PV-ezRack SolarMatrix Pro.

The displays cover the needs of roof-mounted and ground-mounted projects. They all have the usual advantages of Clenergy's PV-ezRack mounting systems which include
* Standardized design and high quality
* Ease of Installation
* Universal Compatibility
* 10 year warranty
The exhibited products especially stand out by their own features:
>> PV-ezRack SolarTerrace I–B
With this new ground mounting system, Clenergy provides an efficient and environment-friendly mounting solution. Its beam and support components are standardized and all of its fasteners are of the same specification, thereby reducing costs without compromising structural integrity. New patented W clamps lock the PV panels firmly in place. The rails are made from roller-formed C-steel, which is recyclable and suitable for any framed solar panels.
>> PV-ezRack SolarTerrace II
The pre-assembled system was developed for large-scale projects built on uneven terrain without a cement base.
>> PV-ezRack SolarMatrix Pro
The system, a non-penetrating system for commercial flat roofs, has a clear lead in ease of maintenance.
These popular products have been widely applied in multiple PV power projects around the world. Successful cases studies include a million-kilowatt PV power station project in Jiayuguan, China with the application of 40-megawatt PV-ezRack SolarTerrace I–B, a 38MW ground mount project in California, USA that utilizes the PV-ezRack SolarTerrace II, a 1.2 megawatt PV-ezRack SolarMatrix Pro system mounted on a building roof in Los Angeles, USA.
Clenergy believes that, with the benefits of attending this large industry event, Clenergy's PV-ezRack mounting systems will further extend its popularity in the international PV industry and Clenergy will play a more important role in the global renewable energy cause. Clenergy is looking forward to meeting you in our booth 1882.
Featured Product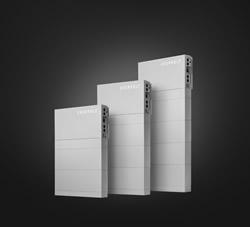 Extract maximum power production from every roof size and shape. HIT® AC Series combines the module efficiency of Panasonic solar panels with the intelligence of Enphase microinverters. A built-in IQ 7X microinverter with Individual MPPT (Module-level Power Point Tracker) tracking helps deliver an all-in-one module that offers design flexibility, reduced installation time, and a higher ROI. Field-replaceable microinverter with no DC wire management required yields lower cost of ownership.