Venus: the National Exhibition Center, Bimingham Dates: 2nd – 4th October 2012 Clenergy Booth: B32
Clenergy recently announced its participation in Solar Power UK Conference and Exhibition 2012. The exhibition is the latest in a series of events brought to the UK's industry by Solar Media, which is a leading business-to-business publishing and events provider for the international PV industry. Based on market demand of UK and the European market, Clenergy will display its comprehensive selection of products for installing PV systems on pitched roofs, flat roofs and trapezoidal sheet roofs, which will include PV-ezRack Trapezoidal, PV-ezRack SolarRoof Pro, PV-ezRack SolarTripod and PV-ezRack SolarMatrix Pro.

Clenergy is globally recognized as providing innovative and leading solutions for commercial, residential, and utility scale customers. The displays all have the usual advantages of Clenergy's PV-ezRack PV mounting systems which include
* Standardized design and high quality
* Ease of Installation
* Universal Compatibility
* 10 year warranty
The exhibited products especially stand out by their own features:
>> PV-ezRack Trapezoidal
PV-ezRack Trapezoidal is the company's new high-quality universal mounting system for PV-systems on trapezoidal sheet roofs with thicknesses of 0.4mm and above. The system is made of anodised aluminium rails with an EVA coating and special screws that enable it to be screwed in without chipping. The system is quick and easy to mount and has a high load capacity.
>> PV-ezRack SolarRoof Pro
Versatile rails, Z-module clips and splice kit eliminates the need of onsite cutting, making PV-ezRack SolarRoof Pro a safe and cost effective PV mounting solution. With a full range of roof hooks, the system is suitable for most roofing types.
>> PV-ezRack SolarTripod
The triangular design provides a strong and sturdy pre-assembled support for solar panels. The system enables mounting a large number of panels on small roof surfaces.
>> PV-ezRack SolarMatrix Pro
The system, a non-penetrating system for commercial flat roofs, has a clear lead in ease of maintenance.
The PV-ezRack roof-mounting series is one of Clenergy' most mature and popular series, gaining widespread application in multiple PV power projects around the world. Successful case studies include a 50-kilowatt roof-mounted project in Shenzhen that utilizes the PV-ezRack SolarTripod. Other projects include a 1.2-megawatt PV-ezRack SolarMatrix Pro system mounted on a building roof in Los Angeles, California.
Clenergy signed a number of new contracts and developed several new partnerships with multiple distribution and retail partners in Europe at this June's Intersolar 2012 exhibition in Germany. Clenergy's success exceeded expectations and reinforced its conviction that the upcoming Solar Power U.K. will further cement Clenergy's position in Europe's PV markets.
Clenergy is looking forward to meeting you in booth B32.
Featured Product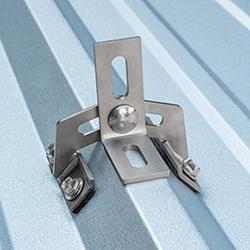 They have been changing the game for 10 years with their original Top Mount line for Asphalt Shingle roofs, and by now supplying one of the widest ranges of solar mounts in North America. From their patented products, to the custom production services they offer, QuickBOLT has been working with solar installers for nearly a decade to make solar installations easier than ever before.