With its abundance of natural resources, governments across Asia are putting in place strategies to decrease reliance on fossil fuel and promote the development of clean energy sources.
Despite the uncertainty over economic growth and policy priorities in developed economies, global new investment in renewables rose 17 percent to a record US$257 billion in 20111.This was more than six times the figure for 2004 and almost twice the total investment in 2007.

In Asia, where some of the fastest developing economies are located, renewable energy presents a viable option to meet ever increasing energy demand. With its abundance of natural resources, governments across Asia are putting in place strategies to decrease reliance on fossil fuel and promote the development of clean energy sources.
To further drive the momentum and enthusiasm in clean energy development in the region, Clean Energy Expo Asia 2012 returns this year, with a bigger showcase from leading players in clean energy financing, project development and technology innovation. From 12 – 14 September 2012, leaders in clean energy will gather at the Centara Grand & Bangkok Convention Centre at CentralWorld, Bangkok, Thailand for the fourth edition of the premier Trade Fair and Conference for clean energy solutions.
"Renewable and sustainable energy remains a key concern globally and a top priority in the region. Asia is rapidly moving to establish robust energy policies that will drive the future of clean energy in the region. This year, Clean Energy Expo Asia makes its way to Thailand, aligning itself with the flourishing clean energy landscape in the Greater Mekong subregion. Thailand is fast emerging as a hub for clean energy project development and the growing number of clean energy projects in the neighboring ASEAN countries further underlines the nation's role in advancing clean energy solutions. Staging Clean Energy Expo Asia in Thailand brings participants closer to the rising opportunities in these markets," said Mr. Michael Dreyer, Vice President, Asia Pacific, Koelnmesse.
"As the government agency operating directly under the Prime Minister's Office, Thailand's Convention & Exhibition Bureau (TCEB) is responsible for promoting Meetings, Incentives, Conventions, and Exhibitions. Exhibitions are vital to the country's economy and industry development. Clean Energy Expo Asia 2012 adds to TCEB's success in attracting a major regional show to Thailand for the first time. Clean Energy Expo Asia's show profile fits into Thailand's national agenda in energy and it brings limitless potential to ASEAN. As such, TCEB is working closely as a consultant and partner with the organizer; Koelnmesse to provide full event support. This includes market study support, links to private sectors and government agencies, as well as being part of the buyer appreciation program: Be My Guest. This program seeks to attract potential international buyers to CEEA 2012", said Mrs. Supawan Teerarat, Exhibition Director of TCEB.
A showcase of leading-edge innovations and opportunities
Clean Energy Expo Asia's Trade Fair continues to attract international exhibitors from countries and regions including China, Germany, Taiwan and Singapore. Leading companies such as Conergy, National Instruments, Phoenix Solar and Versol Solar have confirmed their participation. .
Host country Thailand will be making their debut at the show, with over 15 companies participating independently and in the pavilion hosted by the Renewable Energy Industry Club, Federation of Thai Industries. Among the leading players participating at the Pavilion are Royal Equipment Co., Ltd and Asia Biomass Co. Ltd.
"CEEA 2012 will further accelerate Thailand's plans of becoming a leader in the renewable energy landscape in Asia. Our collaboration with Koelnmesse combines the expertise of a well-known organizer of global trade fairs and conferences with Thailand's strong pipeline of renewable energy projects. The Renewable Energy Industry Club of the Federation of Thai Industries and its members strongly support CEEA 2012 through our participation in the exhibition pavilion and conference as well as through the organization of the technical visits and clinics," said Mr. Phichai Tinsuntisook, Chairman, Renewable Energy Industry Club, Federation of Thai Industries.
China will also be well represented on the Trade Floor this year. Among those exhibiting for the first time at Clean Energy Expo Asia is China's Yunnan Tianda Photovoltaic Co., Ltd., one of the first and largest professional companies in China that provides solar modules and photovoltaic systems.
Advancing the discussion on clean energy solutions
This year will see the introduction of the Renewable Clinic, a new business segment that facilitates renewable energy and energy efficiency developments in Thailand. Throughout the duration of the event, delegates who are embarking on new clean energy and energy efficiency projects in the country can book a 15-minute meeting slot with an expert of their choice. Over 20 renewable energy experts will be available on-site to provide expert advice on project management, visualization, planning, due diligence, resource assessment, as well as feasibility studies and post-planning considerations to keen project developers. .
Technical site visits to demonstrate the importance of renewable energy Another first at Clean Energy Expo Asia is the technical site visit to two renewable energy plants. To be held on 15 September, the full-day site visit to the Gunkul Solar Power Plant and the Dan Chang Bio Energy Plant offers an opportunity for delegates from across the globe to have a glimpse into the state of renewable energy development in the nation, while sharing the opportunities and challenges in renewable energy in Thailand.
Located in Dong-Khon, Sankhaburi in the Chainat province, Gunkul Solar Power Plant, the leading producer of solar energy in Thailand, will showcase its zero carbon emission operation to delegates during the site visit. Similarly, Dan Chang Bio-Energy Co., Ltd will share with delegates how its power plant utilizes bagasse, a byproduct from the Mitr Phol sugar mill situated next to it, to generate steam and electrical power. Dan Chang Power Plant also purchases agricultural waste from surrounding farms to increase the community's income and reduce waste. In total, Dan Chang Power Plant has successfully saved up to 100 million liters of oil used for power generation and reduced greenhouse gas emissions by up to 250,000 tonnes.
Leading the conversation on renewable energy
This year, the Clean Energy Expo Asia Conference's three plenary sessions and 25 tracks will delve into the business, finance, policy and commercialization aspects of sustainable energy. Two new tracks this year will focus on cleantech public relations. Targeted at communicators and key business leaders, the sessions, Media Communications for Energy and Environmental Issues and The "Do's And Dont's" of Communicating Energy and Environmental Topics will provide insights into how companies can improve their communications strategy for environmental issues.
Clean Energy Expo Asia's keynote will be presented by Mr. S. Chander, Director General, Regional and Sustainable Development Department of the Asian Development Bank, who will speak on Building the Clean Energy Foundation and the Global Outlook. This will be followed by the opening plenary, Shaping a Game Changing Business: The Future of Clean Energy in Asia. Featuring a panel of international industry experts, the plenary will be moderated by Dr. Chris Hartshorn, Vice President – Research of Lux Research.
Financing and commercialization of sustainable energy projects are in the spotlight this year with sessions such as, Analyzing and Structuring Energy Efficiency Projects For Greater Positioning, Renewable Project Finance: Mission Critical Success Factors; Mobilizing Renewable Funds: Exploring Financing Sources and Innovative Mechanisms; and Bridging the Finance Gap. These sessions will shed light on developing sustainable energy project plans and ways to ensure the right funding to bring these plans to life.
In total, participants can expect to meet and hear from close to 100 leading players from around the world in the areas of renewable energy, energy efficiency and sustainable development. These include Mr Alexander Lenz, President – South East Asia & Middle East, Conergy Asia and ME Pte Ltd; Dr Bartosz Wojszczyk, Managing Director, Global Business Growth & Strategy, GE Energy; Mr Carl Kukkone, Chief Executive Officer, VIASPACE Inc; Ms Pauline Chong, Associate Director, Renewable Energy & Environment Finance, Standard Chartered Bank, Mr Terry Fry, Senior Vice-President for Demand Management and Energy Efficiency, Nexant and Ms. Wandee Khunchornyakong, Chairman and Chief Executive Officer of SPCG Public Company Limited.
Last year's Clean Energy Expo Asia featured over 170 exhibitors and drew more than 5,200 participants from 62 countries. For more information on Clean Energy Expo Asia, please visit www.cleanenergyexpoasia.com.
Featured Product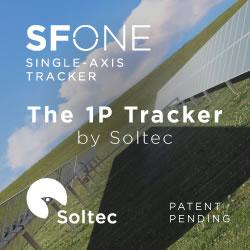 Soltec manufactures and supplies solar trackers designed and proven for extreme climate conditions, which is an ideal solution for any region's environment. Soltec's trackers are self-powered, requiring no additional PV module or grid-powered connection. Bifacial modules collect energy on both the front and rear sides, capturing reflected irradiance from the ground surface under and around the tracker and from other modules. Depending on site conditions, bifacial yield-gain can reach +30 percent.