Provides liquidity in SREC markets to make residential solar financing more attractive
San Francisco—[July 31, 2012]—Clean Power Finance, the online marketplace for residential solar financing and leading provider of solar sales software, today announced the launch of the CPF Capital & Trading service. The service will allow Clean Power Finance partners to take advantage of Solar Renewable Energy Credit (SREC) value in New Jersey, Massachusetts and other states with aggressive solar carve-out programs to create attractive residential solar financing products.

Renewable Portfolio Standard (RPS) legislation mandates that utilities derive a specific percent of their electricity from renewable energy generation sources and often includes requirements for solar energy deployment known as "solar carve-out" programs. Instead of building solar power generation facilities themselves, utilities can meet their solar generation requirements by purchasing SRECs from homeowners and businesses with solar systems, which helps offset the costs of residential and commercial installations.
Several states, including New Jersey and Massachusetts, have attractive solar carve-out programs with SREC values that can favorably affect financing options for residential solar. Clean Power Finance and its investor partners have the scale and expertise to allow CPF Capital & Trading to efficiently buy and sell SRECs and provide meaningful liquidity that translates into more attractive financing products for residential solar consumers.
"CPF Capital & Trading will provide solutions to reduce the commodity exposure for our funds and financing customers," said Kristian Hanelt, SVP of renewable capital markets at Clean Power Finance. "We believe this service will be a powerful differentiator for Clean Power Finance and attractive to a variety of investors and potential structured product partners."
To help it design and deploy the Capital & Trading service, Clean Power Finance has hired Paul Joyce as Director of Environmental Markets. Before Clean Power Finance, Paul was Head of Trading at 3Degrees Group Inc., the leading Renewable Energy Credits sales, trading and advisory firm in the United States, which was named 2011's Best Renewable Energy Certificates Trading Firm by Environmental Finance and the top Renewable Energy Certificates Dealer by Energy Risk magazine. Before 3Degrees, Paul worked at the San Francisco Department of the Environment and ICAP where he was part of the team that launched a proprietary fixed income electronic brokerage platform that today transacts $500BN in securities per month.
"We are delighted to welcome Paul to Clean Power Finance," said Nat Kreamer, Clean Power Finance's CEO. "We are continually creating ways to make the solar sales process easier and more profitable for our solar professional partners and investors and more affordable for consumers. Tapping Paul's expertise for CPF Capital & Trade will allow us to seamlessly incorporate SREC liquidity into superior financing products that drive residential solar installations."
About Clean Power Finance
Clean Power Finance is driving the mass-market adoption of residential solar by building an online business-to-business marketplace to connect the solar industry and the capital markets. Clean Power Finance provides solar professionals, including marketers, installers, manufacturers and distributors, with access to a variety of non-exclusive, white-label residential finance products and an easy-to-use solar sales quoting and design tool. The company's transparent pricing makes it easy for financial firms and lenders to invest in residential solar projects that provide reliable rates of return. Founded in 2007, Clean Power Finance is venture backed by Kleiner Perkins Caulfield & Byers (KPCB), Google Ventures, Claremont Creek Ventures, Clean Pacific Ventures and Sand Hill Angels. To learn more about how Clean Power Finance can accelerate the growth of solar businesses, please visit www.cleanpowerfinance.com.
##################
Media Contact:
Alison Mickey
415-963-4319
amickey@cleanpowerfinance.com
Featured Product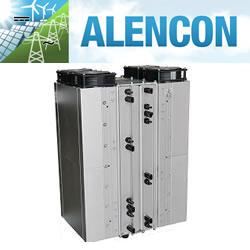 Alencon Systems is the premier manufacturer of high power, high voltage DC:DC optimizers for alternative energy applications including solar, battery energy storage, Microgrids, Fuel Cells and Electric Vehicle charging. Alencon's DC:DC converter offerings include the SPOT, BOSS and CUBE series DC:DC converters. The SPOT is a modular, uni-directional DC:DC solution ideal for solar applications. The BOSS is a modular, bi-directional unit for use with battery energy storage. The CUBE is a monolithic DC:DC converter which is available in both uni-directional and bi-directional modalities. Pictured above, is the Alencon SPOT.