Qualified residents in the Philadelphia region who have taken ownership of either the Nissan LEAF or Chevy Volt, will receive a free residential Blink wall mount charger as well as an installation credit of up to $400, subject to certain conditions.
SAN FRANCISCO and PHILADELPHIA, Aug. 1, 2012 -- ECOtality,Inc. (Nasdaq:ECTY),

a leader in clean electric transportation and storage
technologies, announced today it will offer its Blink(R) smart charging
stations free to residents and commercial host sites of the greater
Philadelphia area as part of its expansion of The EV Project, a
public-private partnership with the Department of Energy.
"Now people interested in electric vehicle transportation in the
Philadelphia region can join The EV Project and help us build a nationwide
network of EV charging stations", said Don Karner, Chief Innovation Officer
of ECOtality, Inc. "By signing up for a free charger, EV owners can take
part in this massive research project that can help reduce our country's
dependence on foreign oil. We are excited about bringing The EV Project,
which is now in nine states and 21 major metropolitan areas to the greater
Philadelphia region."
Qualified residents in the Philadelphia region who have taken ownership of
either the Nissan LEAF or Chevy Volt, will receive a free residential Blink
wall mount charger as well as an installation credit of up to $400, subject
to certain conditions. Residents and commercial hosts interested in
participating can sign up at http://www.theevproject.com/sign-up.php or by
emailing philadelphia@ecotality.com.
The EV Project is being brought to the Philadelphia region in partnership
with PECO, the energy delivery company for the Greater Philadelphia Region.
"PECO and ECOtality share a strong environmental commitment", said Craig
Adams, PECO president and CEO. "Locally, more and more of our customers are
exploring the use of electric vehicles and investing in this technology. To
support this effort, in June, we launched PECO Smart Driver Rebates. This
exciting programs offers rebates and incentives for residential and business
customers investing in new electric vehicle technology including a $50
rebate for residential and business customers who have purchased an electric
vehicle, a $1,000 rebate per unit for our government, institutional and
non-profit customers installing up to two Level 2 public chargers, and a up
to a $3,000 rebate for local counties who are installing a Level 2 public
charging station. And, as we continue our efforts, we also look forward to
working with The EV Project to support their efforts related to electric
vehicle infrastructure build-out and data collection in our region."
Across the Delaware, PSE&G is also joining the initiative in a portion of
its service territory. "We are a proud sponsor of The EV Project, which is
enabling our state to reap the benefits of electric vehicles by making it
easier for customers to operate their vehicles," said Ralph LaRossa, PSE&G
president and COO. "Electric vehicles go hand-in-hand with PSE&G's
commitment to the environment, and we look forward to helping our
participating customers in Camden, Burlington, Gloucester and Mercer
counties make a smooth transition to electric transportation."
To learn more about The EV Project opportunities in the Philadelphia area
and meet with local EV experts, ECOtality is presenting a Host Partners
Forum on August 16th at the National Constitution Center.
Details on this event will be released through a media advisory and on
Blink's Facebook: https://www.facebook.com/blinknetwork.
"We are excited at the opportunity to work with ECOtality on this
initiative. For more than 3 years we have diligently been working to
implement EV infrastructure in and around Philadelphia." Stated Tony
Bandiero, Director of The Greater Philadelphia Clean Cities Program, a
Department of Energy sponsored organization promoting alternative fuels in
the transportation sector. "The announcement from ECOtality to bring the EV
Project to our area will certainly show the commitment from all involved
that Electric Vehicles are a viable, safe alternative to imported
petroleum."
ECOtality is the project manager of The EV Project, a research initiative to
help build America's future EV infrastructure. To date, The EV Project has
gathered more than 33 million miles of EV driver data that will serve to
support the deployment of EVs in key markets.
The project is a public-private partnership, funded in part by the U.S.
Department of Energy through a federal stimulus grant and made possible by
the American Recovery and Reinvestment Act (ARRA). For more information
about The EV Project, please visit www.theevproject.com
About ECOtality, Inc.
ECOtality, Inc. (Nasdaq:ECTY), headquartered in San Francisco, California,
is a leader in clean electric transportation and storage technologies.
Through innovation, acquisitions, and strategic partnerships, ECOtality
accelerates the market applicability of advanced electric technologies to
replace carbon-based fuels. For more information about ECOtality, Inc.,
please visit www.ecotality.com.
The ECOtality, Inc. logo is available at
http://www.globenewswire.com/newsroom/prs/?pkgid=13434
About PECO
Based in Philadelphia, PECO is an electric and natural gas utility
subsidiary of Exelon Corporation (NYSE:EXC). PECO serves 1.6 million
electric and 494,000 natural gas customers in southeastern Pennsylvania and
employs about 2,400 people in the region. PECO delivered 82.1 billion cubic
feet of natural gas and 38.1 billion kilowatt-hours of electricity in 2011.
Founded in 1881, PECO is one of the Greater Philadelphia Region's most
active corporate citizens, providing leadership, volunteer and financial
support to numerous arts and culture, education, environmental, economic
development and community programs and organizations.
Featured Product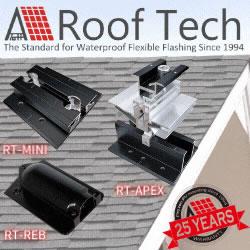 Now Roof Tech brings you the most innovative, watertight mounting systems ever developed for solar photovoltaic systems. Designed and manufactured exclusively for us by Japan's longtime leader in roofing technologies, Roof Tech products are 100% code-compliant and offer fast, simple installation and huge savings on shipping costs due to their compact, rail-less design. Learn more about our full line of versatile PV mounting solutions now available for residential installations. The next generation in rooftop solar mounting solutions."