Campo Verde is expected to start construction in the third quarter of 2012 and be completed in 2013
TEMPE, Ariz., Aug 01, 2012 -- First Solar, Inc. FSLR +25.20% today announced it is developing the 139 megawattAC (MW) Campo Verde Solar Project, located near El Centro in Imperial County, Calif.

Campo Verde is expected to start construction in the third quarter of 2012 and be completed in 2013, creating about 250 construction jobs. San Diego Gas & Electric Company (SDG&E) will purchase the project's output under a 20-year power purchase agreement, which was approved on May 24, 2012 by the California Public Utilities Commission.
First Solar will construct the project using its advanced thin film PV modules that generate clean, renewable energy with no emissions, waste or water consumption during operation. The project will generate enough electricity to power approximately 50,000 average California homes, displacing 80,000 metric tons of CO2 per year, the equivalent of taking 15,000 cars off the road.
"First Solar is very pleased to be working with SDG&E for the first time to deliver clean, renewable energy and create hundreds of construction jobs in Imperial County," said Brian Kunz, First Solar Vice President of Project Development, North America.
The Campo Verde project is jointly owned by First Solar and US Solar Holdings LLC, but First Solar has contractual rights to acquire 100 percent ownership interest and is in the process of completing its acquisition.
About First Solar, Inc.
First Solar is a leading global provider of comprehensive photovoltaic (PV) solar systems which use its advanced thin-film modules. The company's integrated power plant solutions deliver an economically attractive alternative to fossil-fuel electricity generation today. From raw material sourcing through end-of-life module collection and recycling, First Solar's renewable energy systems protect and enhance the environment. For more information about First Solar, please visit www.firstsolar.com .
About US Solar Holdings LLC
US Solar is a leading developer of solar powered generation in the United States, with offices in Boise, Phoenix and San Diego. For more information about US Solar Holdings LLC, please visit www.ussolarholdingsllc.com .
Featured Product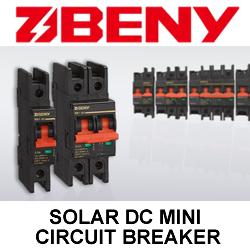 The BB1-63 modular miniature circuit-breakers can be used in solar DC circuits up to 1200 VDC (4-poles execution). Application in solar DC circuits, battery energy storage systems and UPS. Arc flash barrier design keeps solar equipment more safe and reliable. For DC circuit over-current protection.