The new feed-in-tariff (FIT), approved June 27 and retroactive to April 1, means the pattern for solar installation in Germany will change this year
El Segundo, Calif. (August 2, 2012)—A midyear subsidy change approved by the German government for photovoltaic (PV) installations in rooftops will continue to drive solar demand for the remainder of 2012, although no year-end rally is expected that will boost overall PV capacity for the country, according to an IHS iSuppli PV Perspectives Market Brief from information and analytics provider IHS (NYSE: IHS).

The new feed-in-tariff (FIT), approved June 27 and retroactive to April 1, means the pattern for solar installation in Germany will change this year.
In 2011, 55 percent of annual installations took place in the fourth quarter after feed-in-tariffs were introduced late in the year, and the market rushed to take advantage of the subsidies before the year was over. With the new legislation, no year-end scramble is expected to occur, and only 28 percent of installations slated for 2012 will take place in the fourth quarter, as presented in the figure attached.
"Overall PV installation capacity this year in Germany, the world's largest solar market, is forecast to amount to 7.3 gigawatts (GW), down just slightly from 7.5GW in 2011," said Henning Wicht, Ph.D., director for PV advanced products at IHS. "However, PV installations in the second half of this year won't match the scale undertaken for the same period in 2011. This is largely because of differences in the timetables for the implementation of subsidies between the two years—and how customers respond to these changes."
German solar market enters mature stage
Annual installations of approximately 7GW to 8GW have been the norm since 2010, when the German solar market was deemed to have reached maturity after six years of development. That level is likely to decline in 2013, and then is forecast to rise from 2014 when investments pay off, even without tariffs.
The current new subsidy will have the effect of making the residential rooftop segment more appealing.
Rooftop systems up to 10 kilowatts (kW) will receive a FIT of 19.5 euro cents per kilowatt hour (kWh), while those up to 40kW will obtain a FIT of 18.5 euro cents per kWh. Tariffs ranging from 13.5 to 16.6 euro cents per kWh will also apply to rooftops sized 1 megawatt (MW) and 10MW, respectively; FITs will not be applicable to any system larger than 10 megawatts.
The great degression
An important element of the new legislation is the introduction of monthly tariff degressions—or a gradual descent in stages—starting on May 1. The new regulation will replace the annual FIT cut that typically occurs in January, and the amount of the monthly FIT change will also be variable, depending on how the market is to be regulated toward a target corridor. The maximum annual degression is fixed at 29 percent.
All told, the subsidy program will be capped at 52GW of cumulative installations, which IHS expects will have reached 27GW by the end of June, contributing 5.3 percent of electricity supply in Germany. Before the cap is reached, the subsidy scheme will be re-evaluated, the new law stipulates.
While the pull-forward effect in the residential segment due to the FIT constitutes good news, there's also cause to take warning. With the change in installation patterns expected this year because of the tariffs, PV module suppliers should not ship the same amount of goods as they have in the past. To do so would incite another cycle of price declines—a development that the industry can ill afford.
Worldwide struggles
Outside of Germany for the rest of the global solar industry, PV participants continue to face arduous operational and financial challenges, including ongoing oversupply, volatile pricing and drastic subsidy cuts.
In particular, a decline in average selling prices accompanied by slimming margins has thrown even top-tier manufacturers into turmoil. Arizona-based First Solar, for instance, is shutting down its German module factory by the fourth quarter and will also be idling four of its 24 production lines in Malaysia.
Meanwhile, SunPower of California has announced the closure of its factory and manufacturing site in the Philippines.
The latest casualties to be added to the list of companies vacating the PV space include Abound Solar, which has closed its facilities in Colorado; and Schott Solar, which has shuttered operations in Europe and the US.
Of the Top 60 companies operating in the PV space, the number of PV manufacturer closures and bankruptcies so far this year has now reached 12—or 20 if project developers are included. A solar rebound is expected next year when demand is projected to increase—but the benefits of the market uptick will extend only to those who endure and see the year through successfully.
About IHS (www.ihs.com)
IHS (NYSE: IHS) is the leading source of information and insight in critical areas that shape today's business landscape, including energy and power; design and supply chain; defense, risk and security; environmental, health and safety (EHS) and sustainability; country and industry forecasting; and commodities, pricing and cost. Businesses and governments around the globe rely on the comprehensive content, expert independent analysis and flexible delivery methods of IHS to make high-impact decisions and develop strategies with speed and confidence. IHS has been in business since 1959 and became a publicly traded company on the New York Stock Exchange in 2005. Headquartered in Englewood, Colorado, USA, IHS employs more than 6,000 people in more than 30 countries around the world.
Featured Product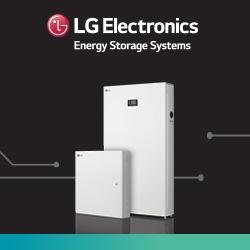 Meet LG Electronics Home 8 Energy Storage System (ESS), a whole home battery backup solution built with installers and their homeowner customers in mind. The ready-to-deploy Home 8 features just one SKU and a modular assembly for fast installation. It can be AC-coupled or solar-powered and is engineered with a grid-connected inverter, four battery modules, and a Smart Energy Box featuring a 7'' LCD touchscreen with commissioning wizard for easy setup. Each Home 8 unit can store up to 14.4 kWh of usable power, helping homeowners gain pure independence from the grid. Plus, installers can connect up to four units, bringing customers up to 57.6 kWh of total backup power-all easily managed and monitored through intuitive mobile apps.