Overwhelming Bi-Partisan Support in Senate Finance Committee Key to Successful Passage
Flagstaff, AZ, August 3, 2012 - The Distributed Wind Energy Association

(DWEA) applauds the Senate Finance Committee for their vote to extend the
Investment Tax Credit (ITC) as part of the Family and Business Tax Cut
Certainty Act of 2012. The extension of the ITC is critical to the
expansion of the Distributed and Community Wind Energy Industry and will
provide certainty to the growing segment of the wind industry which delivers
renewable energy to rural communities and U.S. based agricultural,
industrial, and commercial customers. Thursday's vote in the Senate Finance
Committee's to extend the ITC will enable the expanded development of these
small, community wind energy projects nationwide that are crucial to
economic development and the creation of clean energy opportunities for
millions of Americans.
Distributed and community wind represented 5.6% of all 2010 new wind
projects in the U.S. and in 2011 that figure rose to over 7%. This segment
represents $2.3 billion in new energy infrastructure for America's rural
communities and commercial/industrial energy consumers (Lantz, E. and Tegen,
S. 2009).
DWEA recently sent a letter to the Senate Finance Committee on behalf of
nearly 200 members of the distributed wind industry, Jennifer Jenkins,
executive director of DWEA said, "The vote reflects the power of a unified
industry voice and message. It's clear to Congressional leadership that
Americans want clean, renewable energy that offers job security, economic
growth and energy independence. As we look forward to the coming debate
before the full Congress, we will continue to work tirelessly to support a
tax credit that enables sector growth for our members nationwide."
About the Distributed Wind Energy Association The Distributed Wind Energy
Association is a collaborative group comprised of manufacturers,
distributors, project developers, dealers, installers, and advocates, whose
primary mission is to promote and foster all aspects of the American
distributed wind energy industry. Distributed wind, commonly referred to as
small and community wind, is the use of typically smaller wind turbines at
homes, farms, businesses, and public facilities to off-set all or a portion
of on-site energy consumption. DWEA seeks to attract members and associates
from all sectors with relevant interests pertaining to the distributed wind
industry. For more information on DWEA, please go to
www.distributedwind.org. Follow us on Twitter @DWEA, find us, like us and
connect with us on Facebook and LinkedIn by searching Distributed Wind
Energy Association.
Featured Product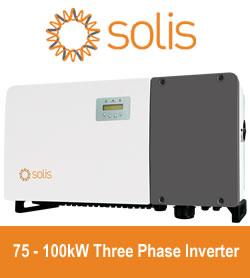 Solis75kW - 100kW series high-power string inverters are widely used in industrial and commercial rooftops. Solis's new three-phase string inverter is the first choice for industrial and commercial photovoltaics. 75-100kW three phase series string inverter have Maximum 28 strings input, support "Y" type connection in DC side. Maximum string input current 13A, support bifacial modules access.Supports anti-PID function to improve system efficiency.