An anticipated pipeline of more than five megawatts in 2012.
DENVER--Building on their established partnership, national contractor Martifer Solar USA, Inc. and the Clean Energy Collective are proud to announce over one megawatt of upcoming community owned solar garden projects, and an anticipated pipeline of more than five megawatts in 2012.

"With demonstrated success in Colorado and net metering legislation on the table in California, now is the time for community owned solar," stated Raffi Agopian, Chief Executive Officer of Martifer Solar USA. "We have always sought innovative ways to deliver solar power to Americans, and our partnership with the Clean Energy Collective represents the best of those efforts. Their unique ownership model, combined with our expertise in project development, design and construction, has secured over a megawatt of contracts so far this year. We are already looking at a total project pipeline in excess of five megawatts for 2012."
Kent James, Chief Strategy Officer at Martifer Solar USA, indicated that community owned solar gardens play a key role in the company's business model. "Community owned solar has the potential to bring clean energy to five times more customers than traditional residential ownership. That potential makes this market a major strategic focus for us going forward."
The two companies collaborated to complete the 858-kilowatt Garfield County Airport Solar Array in 2011, which upon its completion was the largest community owned solar garden in the United States. "The program is highly subscribed, and outperforming our expectations a year after its completion," stated Paul Spencer, founder and Chief Executive Officer of the Clean Energy Collective. (Based on the success of the project, the Garfield County Solar Array was awarded the 2012 Photovoltaic Project of Distinction Award by the Solar Energy Industries Association and the Solar Electric Power Association.) "We have proven that community owned solar works, and works well. Customers, utilities, and the solar industry are all paying attention."
Near term opportunities for the Clean Energy Collective and Martifer Solar USA include similar collaborations for two additional projects in Colorado, located in San Miguel Power Association and Poudre Valley Rural Electric Association territories. The San Miguel project, at 1.15 MW, is expected to be the largest community-owned solar array in the nation, surpassing the Garfield County Airport array. "Demand for community owned solar gardens took off when panels became available for purchase in Garfield County," stated Nick Galesic, Vice President of Martifer Solar USA's Central region, which managed engineering, procurement, and construction (EPC) services for the project. "We are confident that the San Miguel and Poudre Valley projects will replicate the success we've seen in Garfield County."
The Clean Energy Collective and Martifer Solar USA agree that community owned solar is not without its challenges. "Selecting a construction partner with the right capabilities is critical to the execution and lasting success of community owned solar gardens. Given Martifer Solar USA's ten year track record installing solar in the United States, the expertise of the Clean Energy Collective, and our experience working together, this is the ideal partnership for implementing community solar on a larger scale," stated Paul Spencer. "We invested heavily in the development of the solar garden concept, but someone has to execute. Martifer Solar USA has done so in the past and achieved the results we wanted; we are pleased to enter into new contracts with them this year, and see many more on the horizon."
Together, the Clean Energy Collective and Martifer Solar USA expect to enter contracts for over five megawatts of community owned solar gardens throughout the United States in 2012.
About Martifer Solar USA, Inc. – Martifer Solar USA, Inc. (Martifer Solar USA) specializes in the design, engineering and installation of solar photovoltaic systems. The company has been providing turnkey solar integration services in the United States market since 2001. Please visit www.MartiferSolarUSA.com.
Martifer Solar USA, Inc. is a subsidiary of Martifer Solar S.A. (www.MartiferSolar.com), a multinational solar manufacturer and installation company with over 200 MW of solar assets installed worldwide. Martifer Solar S.A. operates in more than 20 countries and reported revenues of $400 million in 2011.
About Clean Energy Collective – The Clean Energy Collective is a developer of community-based renewable energy facilities and a national leader in community power generation. The Colorado-based company has pioneered the model of delivering clean power-generation through large-scale facilities that are collectively owned by participating utility customers. The CEC's proprietary RemoteMeter® system automatically calculates monthly credits and integrates with existing utility billing systems, enabling all utility customers to easily have clean, renewable power credited directly on their monthly utility bills, without modifying their home or office. ww.EasyCleanEnergy.com or (800) 646-0323.
Featured Product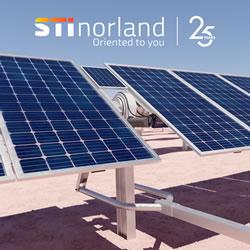 Developed in 2017, the STI-H250™ is consists of two linked torsion beams that rotate simultaneously following the sun's path. They are moved by just one motor, cutting supply and maintenance costs. STI-H250™ dual-row tracker includes backtracking mode to avoid shadowing between adjacent rows and stow function to protect the tracker in extreme wind conditions. For cleaning, vehicles can pass between trackers and each row can be placed in a different position.