The conference will be held September 18th-19th in Denver, Colo.
GREENWOOD VILLAGE, Colo.--The 10th annual Battery Power 2012 conference will bring together leaders in portable electronics, electric vehicles and energy storage to discuss the latest advancements in battery technology and power management. The conference will be held September 18th-19th in Denver, Colo.

The conference is designed for OEM design engineers, system engineers, technical and management professionals involved in battery powered products and systems, battery manufacturing, R&D and power management technology. Presentation topics include new battery designs, emerging technologies, battery materials, power management, charging and testing systems, battery health, as well as the latest market trends affecting the industry.
"With the continued expansion of power-hungry electronic devices and the integration of electric vehicles into main-stream America, it is more important then ever for design engineers to develop products that live up to consumer expectations," said Shannon Given, program manager of Battery Power 2012. "With mobile devices such as tablets, e-Readers and smart phones, design engineers are seeking ways to improve battery life while reducing the battery footprint. Designing and integrating cost-effective batteries for electric vehicles is only the first step in mass consumer adoption. Implementing regional and nationwide charging infrastructure to keep the cars running and drivers happy is the next. Battery Power 2012 addresses theses topics and others impacting batteries and battery-powered systems."
Industry-leading companies presenting at Battery Power 2012 include Philips Healthcare, John Hopkins Applied Physics Lab, Frost & Sullivan, Lux Research, Siemens, Idaho National Lab, Dow Chemical Company, Underwriters Laboratories, PowerGenix, Texas Instruments and Electrochem Solutions, Inc.
Attendees will have the opportunity to attend pre-conference activities on September 17th, including a tour of the National Renewable Energy Laboratory in Golden, Colo., as well as workshops covering shipping Li-Ion batteries and designing Li-Ion batteries.
Battery Power 2012 will be co-located with other industry-leading conferences: Advancements in Thermal Management, Remote 2012, and Mobile Antenna Systems 2012. The events will share a combined exhibit hall floor, which is open to all attendees.
Featured Product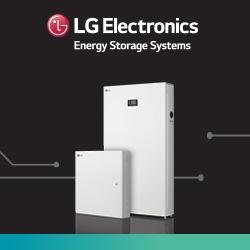 Meet LG Electronics Home 8 Energy Storage System (ESS), a whole home battery backup solution built with installers and their homeowner customers in mind. The ready-to-deploy Home 8 features just one SKU and a modular assembly for fast installation. It can be AC-coupled or solar-powered and is engineered with a grid-connected inverter, four battery modules, and a Smart Energy Box featuring a 7'' LCD touchscreen with commissioning wizard for easy setup. Each Home 8 unit can store up to 14.4 kWh of usable power, helping homeowners gain pure independence from the grid. Plus, installers can connect up to four units, bringing customers up to 57.6 kWh of total backup power-all easily managed and monitored through intuitive mobile apps.