PV Insider announced this week that Eskom and the International Finance Corporation have been confirmed to participate at the PV Project Development Summit South Africa (3-4 September, Hilton Sandton Hotel, Johannesburg).
Eskom will send three top experts to share their experiences in the South African PV industry since the Integrated Resource Plan (IRP) was launched in 2011. Ayanda Nakedi (Senior General Manager), Nish Rathanlall (Chief Engineer Grid Planning) and Wolfgang Bohmer (Relationship Manager, IPP Unit) will discuss the current work Eskom is conducting to modernize the electrical grid with the leading PV companies that are confirmed to attend the summit.

The conference is now only four weeks away, bringing together leading experts from the global PV industry who will tackle the unique challenges faced in South Africa when developing utility scale plants. One of the key talking points of the conference are the lessons learned from Rounds I & II of the IRP with participation from Soitec, Gestamp Solar, Mainstream Renewable Power and Momentous Energy. Delegates will also hear exclusive case studies from Schneider Electric, Fluor and First Solar to demonstrate how they have streamlined project development strategies to reduce costs and optimize the performance of plants in Europe and the United States.
Conference organizer Jack Ahearne at PV Insider said that "the PV industry in South Africa has faced substantial challenges since Round I projects were awarded. At the PV Project Development Summit we will bring together leading experts and overcome these roadblocks, to guarantee the future growth of PV for years to come. We are proud that Eskom are joining us to share their current work in modernizing the electrical grid, as this will provide clarity on how improvements in infrastructure will benefit projects currently under development in South Africa".
The event is set to take place on 3-4 September in Johannesburg, with over 150 delegates in attendance. For more details about the event go to the website:
www.pv-insider.com/southafrica
Or contact:
Jack Ahearne
PV Insider
jack@pv-insider.com
Featured Product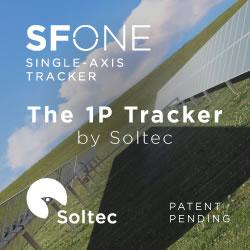 Soltec manufactures and supplies solar trackers designed and proven for extreme climate conditions, which is an ideal solution for any region's environment. Soltec's trackers are self-powered, requiring no additional PV module or grid-powered connection. Bifacial modules collect energy on both the front and rear sides, capturing reflected irradiance from the ground surface under and around the tracker and from other modules. Depending on site conditions, bifacial yield-gain can reach +30 percent.