Geothermal supporters Gov. Jerry Brown and Mayor Kevin Johnson both represented by speakers at GEA National Geothermal Summit
SACRAMENTO (August 8, 2012) - With policy leaders, utilities and geothermal industry professionals on hand, the second annual GEA National Geothermal Summit kicked off last night in Sacramento with the GEA Honors Awards Dinner honoring the winners of the coveted annual industry awards. Sacramento Mayor Kevin Johnson was represented at the dinner by Julia Burrows, President & Executive Director of Greenwise Joint Venture and Policy Advisor to the Mayor, who will address attendees. Organized by the Geothermal Energy Association (GEA), the Summit brings major decision makers together to discuss geothermal's future in California and across the country, at a time when all renewable technology sectors are striving for sustained growth.

"The GEA Honors recognize the companies and individuals that represent the very best aspects of the geothermal industry--one that is providing clean, baseload power to Americans nationwide," said GEA Executive Director Karl Gawell. "GEA would also like to recognize the geothermal community as a whole for working to secure America's energy future."
The GEA Honors 2012 Winners:
Technological Advancement: Awarded to an individual or company that has developed a new, innovative, or pioneering technology to further geothermal development.
Winner: Enel Green Power North America: The Stillwater Solar-Geothermal Hybrid Project is the first ever hybrid power plant of this kind. This technology may help to allow projects that would otherwise have been unfeasible as stand-alone geothermal or solar projects to be more economically and technologically viable.
Finalists:
*Baker Hughes' R&D efforts to develop high-temperature technologies
*ElectraTherm's fuel-free, emission-free Green Machine
*EnergySource's Hudson Ranch I Plant (recently renamed John L. Featherstone plant)
TAS Energy's San Emidio and Dixie Valley power plants
Economic Development: Awarded to an individual or company that has made a substantial contribution to the development of local, regional or national markets through the development of geothermal systems.
Winner: Ram Power/Polaris Energia: The San Jacinto-Tizate Geothermal Project in Leon, Nicaragua will add 10% of clean, sustainable, reliable and indigenous power to Nicaragua's current power portfolio. The knowledge transfer from the project will also serve to boost Nicaragua's pool of technicians, and the construction, operation and maintenance of the plant will provide employment to the local area.
Finalist:
*GeothermEx for enabling billions of dollars in project financing and the installation of nearly 7,000 MW of geothermal power worldwide
Environmental Stewardship: Awarded to an individual or company that has fostered outstanding environmental stewardship through the use of geothermal systems. This award is presented in conjunction with the Environmental and Energy Study Institute (EESI).
Winner: Ormat Technologies, Inc.: While building the Tuscarora and McGinness Hills facilities, Ormat took several precautions to preserve the natural habitat of the sage grouse, a native bird to the area, and engaged in extensive efforts to protect the overall environmental integrity of these sites.
Finalists:
*Geothermal Development Associates' Eburru Wellhead Geothermal Power Plant in Kenya
*SNC-Lavalin's company-wide commitment to addressing climate change and sustainability
Special Recognition: Awarded to an individual or company for outstanding achievement in the geothermal industry. These awards are open to both GEA members and non-member companies:
*AltaRock Energy: The company commercialized EGS technology for power generation through improving stimulation methods that will benefit the entire geothermal industry.
*Dr. Desikan Bharathan: Established revolutionary condenser technology that improved efficiency of geothermal energy production as part of his work at the U.S. Department of Energy's National Renewable Energy Laboratory (NREL).
*Calpine Geysers Visitors Center: The center has been providing public education of geothermal energy since 2010 and has welcomed more than 75,000 visitors from 79 countries.
*Dr. Leland (Roy) Mink: Serves on board of directors for US Geothermal and former Manager of DOE Geothermal Technology Program and has been working in geothermal industry since 1972.
*National Geothermal Academy: Leader in geothermal education programs in the U.S. and attracted national and worldwide attention in its inaugural year.
*John Pritchett: Mr. Pritchett has been an internationally-recognized leader in the development and utilization of geothermal reservoir engineering technology since 1974, and currently works for Science Applications International Corporation (SAIC).
*Simbol Materials: The company is working at a demonstration facility in the Salton Sea that produces lithium from existing geothermal plants in an effort to revolutionize the future of the new energy economy and turn the U.S. into a major lithium exporter.
*SMU Geothermal Program: For more than 42 years the program has been supplying vital information on geothermal energy and training the next generation of geothermal leaders.
GEA also honored five companies that brought U.S. power plants online in 2011-12:
*Energy Source (Hudson Ranch 1, California)
*Ormat (Puna, Hawaii) (Tuscarora, Nevada)
*Terra-Gen Power/TAS Energy (Beowawe, Nevada)
*U.S. Geothermal/TAS Energy (Neal Hot Spring
*Project, Oregon and San Emidio, Nevada)
The Summit kicks off in earnest today with a full slate of influential industry and policy speakers, including a representative from Gov. Jerry Brown's office: JR Delarosa, Advisor to the Governor for Renewable Energy. Additional speakers include State Assembly member V. Manuel Pérez (D-Coachella); California State Senator Alex Padilla (D-Pacoima); Commissioner Carla Peterman, California Energy Commission; Karen Edson, Vice-President, Policy and Client Services, California ISO; and John DiStasio, General Manager & CEO, SMUD.
These speakers and others will take part in a number of sessions and panels touching on topics such as geothermal and renewable energy outlooks for California and neighboring states, utility experience with geothermal power, reducing the risk for geothermal drilling and exploration, streamlining projects and permits, and improving incentives for geothermal power. An exhibit area will also feature government, sponsor and industry tabletops.
Today's agenda also features an invitation-only media roundtable that will bring together energy and policy reporters with industry leaders for a dialogue on taking geothermal to the next level. Participants include Gawell, Delarosa, Distasio, Edson, and others including Stacey Crowley, Director, Nevada State Office of Energy; Halley Dickey, Director Geothermal Business Development Renewable Energy Systems, TAS Energy; Douglas Hollett, Program Director of the Geothermal Technologies Program at the US Department of Energy and former Manager of Unconventional New Ventures for Marathon Oil; Dr. Jane C.S. Long, Co-Chair, California's Energy Future Committee, California Council on Science and Technology; and Paul Thomsen, Public Policy Manager, Ormat Technologies, Inc.
"We look forward to a dynamic and constructive event that brings together all of the stakeholders who are integral to geothermal's growth not only in California, but across the country as well," said GEA Executive Director Karl Gawell. "With the support of policymakers like Governor Brown and Mayor Johnson, California's clean energy future is bursting with potential and as bright as it has ever been."
For a full Summit agenda, visit http://www.geo-energy.org/nationalgeothermalsummit/Agenda.aspx.
For details on attendee registration, event agenda and floor plan visit http://www.geo-energy.org/nationalgeothermalsummit/main.aspx.
About the Geothermal Energy Association:
The Geothermal Energy Association (GEA) is a trade association composed of U.S. companies who support the expanded use of geothermal energy and are developing geothermal resources worldwide for electrical power generation and direct-heat uses. GEA advocates for public policies that will promote the development and utilization of geothermal resources, provides a forum for the industry to discuss issues and problems, encourages research and development to improve geothermal technologies, presents industry views to governmental organizations, provides assistance for the export of geothermal goods and services, compiles statistical data about the geothermal industry, and conducts education and outreach projects. For more information, please visit http://www.geo-energy.org/.
Featured Product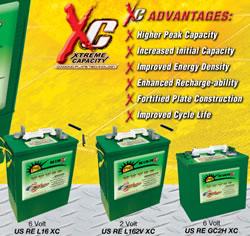 Our RE Series batteries are designed to provide the highest peak capacity, longest cycle life, and greatest reliability for use in industrial or residential renewable energy applications. Renewable Energy Series batteries utilize the company's exclusive XC2â"¢ formulation and Diamond Plate Technology® to create the industry's most efficient battery plates, delivering greater watt-hours per liter and watt-hours per kilogram than any other flooded lead-acid battery in the market. Our Deep Cycle batteries are engineered to work with solar panels as well as other renewable energy applications.