The REC proposal aims to both reduce module manufacturing costs and improve module efficiency.
SAN LUIS OBISPO, Calif.--The largest European supplier of solar modules, Renewable Energy Corporation (REC), is one of five solar energy research teams selected to receive grants totaling USD 8.53 million under the Clean Energy Research Program (CERP).

Launched in 2007 by the Energy Innovation Program Office (EIPO), CERP expedites the development of the clean energy industry in Singapore with key initiatives such as the establishment of public sector R&D centers, competitive funding and talent development programs. The fifth and final grant call from the CERP concentrated on two areas: improving silicon wafer-based solar cell manufacturing processes and technologies and thin-film solar cells based on the Chalcopyrite materials system. REC received a grant for a proposal to develop and industrialize cost effective and high performing back contact modules based on back-contacted cells using high efficiency Metal Wrap Through (MWT) technology. In this project, REC will work closely with its partner ASM Technology Singapore Pte Ltd.
The REC proposal aims to both reduce module manufacturing costs and improve module efficiency. This new innovation allows manufacturers to stay cost competitive without compromising the quality and performance that customers expect.
"REC is proud to receive this grant from the CERP for one of our new cell technology projects. This new technology has the potential to optimize manufacturing processes while increasing module power to benefit solar consumers," said Luc Grarť, senior vice president, sales and marketing, cells and modules, REC Solar. "The business-friendly environment in Singapore, as well as its strong IP protection, government support and skilled workforce makes it a strategic location for us."
REC recently launched its new REC Peak Energy Plus Series – the first commercially available multicrystalline module based on cells with backside passivation technology. It delivers an additional 5 watts compared to the earlier generation product and is optimized for lower sunlight conditions and higher temperatures, producing additional energy during early and late hours of the day, in hazy conditions and in warmer climates.
About REC:
REC is a leading vertically integrated solar energy company. REC produces polysilicon, wafers, cells and modules for the solar industry, and silicon materials for the electronic industry. REC also engages in project development in selected PV segments. Founded in Norway in 1996, REC employs around 3,100 people globally with revenues of more than NOK 13 billion in 2011, approximately EUR 1.7 billion or USD 2.4 billion. Please visit www.recgroup.com to learn more about REC.
Featured Product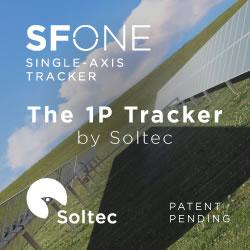 Soltec manufactures and supplies solar trackers designed and proven for extreme climate conditions, which is an ideal solution for any region's environment. Soltec's trackers are self-powered, requiring no additional PV module or grid-powered connection. Bifacial modules collect energy on both the front and rear sides, capturing reflected irradiance from the ground surface under and around the tracker and from other modules. Depending on site conditions, bifacial yield-gain can reach +30 percent.