Fuel cells and lithium-ion batteries – indispensable prerequisites for future electro-mobility and a new, sustainable energy economy. Experts in these fields will be meeting at the f-cell and Battery+Storage conferences and trade fairs at the Stuttgart Trade Fair Grounds from 8 to 10 October 2012. One topic on the agenda is cost reduction in system production.
Stuttgart (eos) – Battery and fuel cell technologies are key components of a sustainable future energy economy. They have long since proven their suitability for practical application. The f-cell and Battery+Storage conferences will focus on fuel cell systems for use in automobiles, household energy supply and power plants and on lithium-ion batteries for vehicles and as stationary energy storage media. Fuel cells and lithium-ion batteries are still considerably more expensive than conventional technologies in these fields of application, however. And that puts a damper on demand. How can components and complete systems be produced more economically in future? That is one of the questions to be addressed by speakers at the f-cell and Battery+Storage conferences in Stuttgart from 8 to 10 October. The international conferences featuring 120 presentations in 19 thematic sessions will be accompanied by parallel f-cell and Battery+Storage trade fairs at the ICS International Conference Centre at the Messe Stuttgart. The e-mobil BW TECHNOLOGIETAG will round out the combined event on 10 October with a presentation of future mobility solutions and focal points of energy policy in Baden-Württemberg.

Solving the "chicken-or-the-egg" dilemma
"Fuel cells are still produced essentially by hand," explains Professor Dr. Angelika Heinzel from the Zentrum für Brennstoffzellentechnik (Fuel Cell Research Centre, ZBT) at the University of Duisburg-Essen with reference to the current status of fuel cell production. The ZBT will be moderating an f-cell forum on production and automation technology. "At the moment, automation is found primarily in component production." Yet the technology has reached a level of maturity that is sufficient for serial production," says Edgar Lederer of Fix Maschinenbau, who will also be speaking at the f-cell conference. Due to the high prices, the demand for fuel cells is still so limited, he adds, that the production systems capable of reducing costs cannot be financed. It is the old "chicken-or-the-egg" problem that plagues battery manufacturers as well. "We aim to break out of this vicious circle with the help of resources made available within the framework of the National Electro-mobility Platform," notes Dr. Rudolf Simon of M+W Germany, a factory planning and construction firm. "The market will grow," he adds with confidence. "It is only a matter of time before the break-even point is reached and the rising fuel-price and falling e-mobility-price curves intersect."
The need for cooperation
The problem of funding serial production is not the only hurdle, however. Developers also have their hands full improving the durability of the requisite technologies, finding substitutes for expensive materials and optimizing the design of components for serial production. "We will have to sit down with designers and suppliers and work out solutions for a number of specific problems," says Edgar Lederer. Dr. Sarah Michaelis of VDMA (German Engineering Federation), who will also be speaking at the Battery+Storage conference, believes that machine and systems manufacturers will play a key role in reducing the costs of battery production. "Companies should join together in order to offer complete battery production systems in the market. And the time has also come for producers and mechanical engineers to engage in dialogue devoted to the further development of suitable systems," Dr. Michaelis adds.
f-cell and Battery+Storage as platforms for dialogue
The f-cell and Battery+Storage conferences and trade fairs will provide an ideal platform for this dialogue. "The combined presentation of the f-cell industry forum, which has enjoyed international recognition for twelve years, and Battery+Storage enables us to take a closer look at complete systems for the energy economy and respond more effectively to the fact that many companies are involved in both fields of technology," explains Peter Sauber, Managing Director of Peter Sauber Agentur Messen und Kongresse GmbH, which is organizing the f-cell in cooperation with the Wirtschaftsförderung Region Stuttgart GmbH (WRS) and collaborating with Messe Stuttgart GmbH as organizer of the Battery+Storage trade fair. The alliance also includes e-mobil BW GmbH, which is hosting the e-mobil BW TECHNOLOGIETAG.
Further information
Further information as well as the f-cell and Battery+Storage conference programmes are available at http://www.f-cell.de/englisch/home/. Information about Battery+Storage trade fair and the e-mobil BW TECHNOLOGIETAG can be found at www.battery-storage.de and www.e-mobilbw.de, respectively. Points of contact for all three events are listed at http://www.f-cell.de/englisch/service/contact/
No fee for reprinting; complimentary copies requested.
For further information and photographs please contact:
Peter Sauber Agentur
Messen und Kongresse GmbH
Lena Jauernig
Tel.: +49 711-656960-56
E-mail: f-cell@messe-sauber.de
Internet: www.f-cell.de
Press contact:
Eike Ostendorf-Servissoglou
Tel: +49 711 – 65227930
E-mail: eos@eoscript.de
Featured Product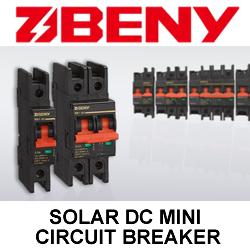 The BB1-63 modular miniature circuit-breakers can be used in solar DC circuits up to 1200 VDC (4-poles execution). Application in solar DC circuits, battery energy storage systems and UPS. Arc flash barrier design keeps solar equipment more safe and reliable. For DC circuit over-current protection.