Solar Becomes a Popular Remodeling Activity
WILMINGTON, NC, August 9, 2012 – Adding solar panels is becoming a popular remodeling option as homeowners experience a significant decrease in their energy expenses and a considerable increase in their property value. In just the past two years, Cape Fear Solar Systems, a Wilmington, NC based leader in solar design and installation, has seen its retrofit solar business increase by over 200 percent as a result of declining solar panel prices, attractive incentives and soon to be expiring Federal and State tax credits.

As solar becomes more and more the norm on new construction, it is finding a growing market in the remodeling of existing homes. According to the press release "Changing Trends in Remodeling Reasons and Rooms" published by The Wilmington - Cape Fear Home Builders Association (WCFHBA) in July, 2012, while homeowners seek to remodel primarily because of the need for a repair, increasing the home's value is the second most popular goal in home renovation. And as a survey released by the National Association of Home Builders (NAHB) in May 2012 states, "Common remodeling projects have increased, compared to a similar survey from 2010."
Without a doubt, Americans enjoy remodeling. We have multiple 24/7 television networks featuring various remodeling projects as well as over 80 home renovation television series. Bathroom and kitchen remodeling is the most common, both up 17 percent from two years ago, according to the WCFHBA press release. Window and door replacements, room additions and other minor renovations are followed by solar installations. Generating your own energy is tempting and has become increasingly popular in many parts of North Carolina (the Wilmington area being one of them), mainly due to the attractive incentives and tax credits, which are currently set to expire at the end of 2015. Recent cost reductions in the price of solar panels help make the investment in solar even more interesting.
"I meet daily with customers ready to invest in upgrades for their homes. Often, they hesitate between kitchen or bathroom remodeling and the installation of a solar array. In the vast majority of cases, solar wins over new kitchens and bathrooms, as women, who represent a significant influence in the household decision process opt for solar, despite the fact that they would love to have new cabinets. Solar will save the family money for the new kitchen from day one," says Timothy Suddoth, Technical Sales Representative for Cape Fear Solar Systems, LLC and Entry Level NABCEP PV and Solar Thermal Certified solar professional.
If we compare the most popular remodeling options, only solar brings an immediate savings. A photovoltaic solar system typically pays for itself between 6 and 9 years. With such a great return on investment, and an expected operating life of 25+ years, no one can argue that solar generates income for another remodeling project shortly after its first few years of power production.
Homeowners, as they age, remodel their homes to make them more comfortable, often equipping bathrooms with step-in tubs and safe showers. After those amenities are put in place, homeowners go solar to hedge their energy rates and to limit instability associated with utility costs. As the market for construction shows signs of recovery, it is clear that remodeling is and always will be a popular activity focusing on improved aesthetics of the most common areas. But it is also clear that today and in the future, remodeling projects will include more and more frequently the installation of renewable energy power sources, such as solar systems.
About Cape Fear Solar Systems, LLC
Wilmington, NC based Cape Fear Solar Systems, LLC is the Southeastern North Carolina's leader in the design and installation of residential and commercial solar systems. Fully licensed, insured and certified, Cape Fear Solar System offer a wide range of solar panels for solar thermal (solar water heating), photovoltaic (solar electric) and solar pool heating systems.
Cape Fear Solar Systems is a NABCEP Certified Solar PVā, Solar Thermal™ and PV Technical Sales™ Installer, which are the distinguishing marks indicating profound knowledge and experience within the solar industry assuring high quality installations for property owners. Cape Fear Solar Systems is recognized by their customers for having a high standard of integrity, accuracy in forecasting the output of installed solar systems, and outstanding post-installation customer service.
Extensive experience in solar installations, in-house design and engineering, and being an Authorized Dealer for the most efficient solar panels on the Planet, SunPower, makes Cape Fear Solar Systems the go to company for turnkey solar solutions. To learn more about the company and its green services, please visit www.CapeFearSolarSystems.com.
Featured Product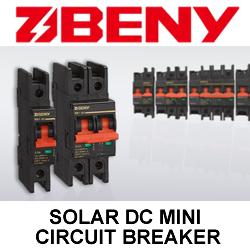 The BB1-63 modular miniature circuit-breakers can be used in solar DC circuits up to 1200 VDC (4-poles execution). Application in solar DC circuits, battery energy storage systems and UPS. Arc flash barrier design keeps solar equipment more safe and reliable. For DC circuit over-current protection.