Solar Power International 2012 brings experts in finance, utilities and technology together in Orlando in a far-reaching conference program
Washington, D.C., August 8, 2012 -- Solar Power International 2012 (SPI '12), North America's premier business-to-business event for professionals in solar energy, features experts analyzing the hottest issues, opportunities and challenges critical to the industry's future success.

Taking place September 10 through 13 at Orlando's Orange County Convention Center, SPI '12 is presented by the Solar Energy Industries Association (SEIA) and the Solar Electric Power Association (SEPA). This international event is expected to attract attendees from more than 100 countries to its exhibits and extensive conference program where they'll learn about new markets for solar, new products, and the issues and strategies that will guide the industry's growing emergence as an energy solution.
This year's education program is highlighted by two general sessions and 64 concurrent sessions, workshops and Solar Idea Swaps, covering topics within six tracks: finance, grid integration, in the field, markets, policy and technology. Speakers from the solar industry along with thought-leaders in finance, utilities, and manufacturing, will share their expertise and insights with attendees.
Among the industry leaders speaking at SPI '12 are: Jose Renato Colaferro, Managing Partner/Director of Projects and Operations, Blue Sol Solar Energy; Michel Di Capua, Head of US Analysis, Bloomberg New Energy Finance; Abraham Ellis, Technical Lead, PV Grid Integration, Sandia National Laboratories; Emily Felt, Director, Renewable Energy Strategy and Compliance,Duke Energy; Gary Gerber, President & Chief Executive Officer, Sun Light & Power; Rick Gilliam, Director, Research and Analysis, The Vote Solar Initiative; Holly Gordon, Vice President, Legislative and Regulatory Affairs, Sunrun; Yuri Horwitz, Chief Executive Officer, Sol Systems; Eran Mahrer, Vice President, Utility Strategy, Solar Electric Power Association; Retired Vice Admiral Dennis V. McGinn, President, American Council on Renewable Energy; John Smirnow, Vice President, Trade & Competitiveness, Solar Energy Industries Association; and, Tom Starrs, Vice President, Americas Market Development and Policy, SunPower.
"With solar power being the fastest growing energy source, industry executives will be looking to utility leaders speaking at our concurrent sessions for guidance as they tackle such issues as transmission planning and distributed solar's impact on the grid," said SEPA president and CEO Julia Hamm. "For example, a session on "The Evolution of Net Metering, Utility Revenues and Rate Design"will explore solutions for bridging the gap between expanding net metering policies and utilities' needs."
"For the solar industry's growth momentum to continue, we need policies and strategies to reduce obstacles and expand markets," said Rhone Resch, SEIA's president and CEO. "Expert panelists in our finance, grid integration and technology tracks examine successful strategies, including creative financing approaches as well as the federal regulations and trade policies that are shaping the industry's future."
Concurrent Session highlights (click links for panelists):
Finance
· Bankability Factors: learn about the factors investors closely examine, including component reliability, production forecasts, project design and credit worthiness. The session will also examine techniques to optimize the complex mix of bankability factors.
· Creative and Cutting Edge Financing: gain insights into successful strategies in financing solar projects and their potential to support a range of solar project types: ITC finance; Securitization; NMTC (New Market Tax Credit); Bonding (public); Vendor/EPC Financing; and PACE.
Grid Integration
· Distributed and Utility-Scale Solar: compare and contrast the benefits of utility-scale and distributed solar and discuss how each impacts the grid differently.
· Transmission Planning: learn how appropriate transmission planning is essential to accommodating the future growth of solar energy.
In the Field
· Improving Fire Safety for Installers and Users: fire safety is a critical issue to the installer workforce and end-user/owner as well as the reputation of solar power. This session focuses on prevention methods, code updates and fire safety lessons learned.
· Long-Term Operations, Maintenance and Warranties: clarity among manufacturer, developer and installer responsibilities can be addressed through solutions for O&M and warranties. Compare and contrast warranty tools for end-users under ownership, PPA, and lessee arrangements and review the responsibilities and liabilities for ongoing O&M.
Technology
· PV BOS Innovations: rapid advances in new PV BOS technologies and strategies for staging and installation of rooftop and ground mount systems can increase efficiency and reduce costs. Two sessions detail how the new technology and installation practices can deliver in greater profits and more satisfied customers.
· PV BOS Innovations—Rooftop
· PV BOS Innovations—Ground Mount
Markets
· Outbound from America to Latin America: identify the challenges and explore the opportunities for new solar export markets in Central America, South America and the Caribbean. Gain insights into the solar industry in these countries and learn how you can pursue these emerging prospects.
· Solar in the Military: take advantage of the growing opportunity for solar in the military market by gaining an awareness of the Department of Defense's renewable energy initiatives. The discussion will examine current DoD projects, both large and small.
Policy
· Expanding Markets without Incentives: what policy changes are occurring in 2012 and beyond? What's the true effect of changing incentives to the market place? Learn about innovative solutions that are being developed to address reduced incentives without government expenditures?
· How Trade Policy will Shape the Industry: explore the implications of recent trade disputes between the U.S. and China over global trade and PV companies. The discussion will address how policy changes may benefit, restrict or change the way all participants in the solar industry do business.
SPI '12 begins on Monday, September 10 with a State of the Solar Industry update from Hamm and Resch, followed by a CEO panel discussing how their companies manage uncertainty due to the changing nature of policy. Companies on the panel are: DBL Investors, Florida Power & Light, Hannah Solar, NRG Solar , SMA America, and SunPower Corp. On Wednesday, September 12, President Bill Clinton delivers a keynote address on the challenges of globalization for the industry and the balancing of dependence on a variety of energy sources.
Sessions encourage attendee participation
Once again, SPI '12 features the popular Solar Idea Swaps, hour-long interactive sessions for small-scale networking and discussions about eight key solar industry issues. In addition, 19 pre- and post-conference industry-expert led workshops affording the opportunity for in-depth and discussion of topics for attendees who want to expand their knowledge base.
For program updates and to register: http://www.solarpowerinternational.com/
SPI '12 sponsors include: Terrawatt - SMA; Gigawatt -Hanwha Solar; Megawatt - Bechtel and Clean Power Finance; Kilowatt - ReneSola and SunWize.
About Solar Power International 2012 (SPI)
Presented by the Solar Energy Industries Association (SEIA) and the Solar Electric Power Association (SEPA),SPI'12 is designed to serve and advance the solar power industry and draws industry professionals representing more than 100 countries. SPI '12 takes place September 10 – 13 at the Orange County Convention Center, Orlando, Florida. Registration, sponsorship, exhibitor and program information can be found at: www.solarpowerinternational.com.
About SEIA®
Established in 1974, the Solar Energy Industries Association is the national trade association of the U.S. solar energy industry. Through advocacy and education, SEIA and its 1,100 member companies are building a strong solar industry to power America. As the voice of the industry, SEIA works to make solar a mainstream and significant energy source by expanding markets, removing market barriers, strengthening the industry and educating the public on the benefits of solar energy. www.seia.org
About SEPA
The Solar Electric Power Association (SEPA) is an educational non-profit dedicated to helping utilities integrate solar power into their energy portfolios for the benefit of the utility, its customers and the public good. With more than 1,000 utility and solar industry members, SEPA provides unbiased utility solar market intelligence, up-to-date information about technologies and business models, and peer-to-peer interaction. From hosting national events to one-on-one counseling, SEPA helps utilities make smart solar decisions. For more information, visit www.solarelectricpower.org.
Featured Product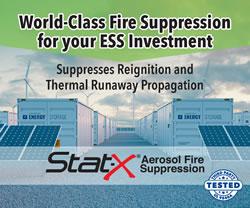 Stat-X® condensed aerosol fire suppression is a solution for energy storage systems (ESS) and battery energy storage systems (BESS) applications. Our Stat-X condensed aerosol fire extinguishing product was tested for efficacy in suppressing li-ion battery fires. It was found that the product successfully extinguished single and double cell battery fires. This testing was conducted in parallel with a large battery fire testing program on behalf of a large energy storage company.