Honeycomb Solar, LLC, is a recently-established renewable energy company in Pittsburgh, Pennsylvania. The company bases itself around three initiatives: solar and renewable energy installation; education and public outreach; and innovation.
Honeycomb Solar is a renewable energy systems company based in Pittsburgh, Pennsylvania. They provide alternative energy solutions that include photovoltaic (solar) array and wind power installations; solar-powered water heating; solar-powered swimming pool heating; solar landscaping; "green-proofing" of residential and industrial buildings; and other emerging technologies in alternative energy.

They believe in changing the face of alternative energy in Pennsylvania through installation, education, and innovation.
The company has formed around four members:
1. Terrill Dines, CEO
As CEO, Terrill Dines handles the day-to-day operations of Honeycomb Solar, LLC, as well as new business opportunities and educational outreach. Ter (as he's known to his friends) comes from a marketing and advertising background, serving as CEO of The Dines Group, an integrated marketing and advertising agency in Pittsburgh.
2. Matthew Dodson, CFO
Matthew Dodson handles the day-to-day finances of Honeycomb Solar, LLC, as well as works with clients on financing and tax credits. Matt comes to Honeycomb Solar from the tax world and has an extensive knowledge of the financial possibilities for our clients. In addition to remarkable financial accomplishments, Matthew comes from a legacy construction family and has worked in construction and remodeling for over 15 years.
3. Evan Freshwater, CIO
Evan P. Freshwater, Chief Information Officer at Honeycomb Solar, LLC, manages the growth and innovation of Honeycomb Solar through technological developments, new business acquisitions, and installation management. Evan has a strong background in both construction and sales and is well-known in Pittsburgh's home-building market.
4. Adam Kolodynski, COO
Chief Operating Officer Adam Kolodynski handles the operations and growth of Honeycomb Solar, LLC. Adam has a considerable background in both construction and business development. He also leads the company's community outreach and charity programs.
The company is excited about the future potential of working in Pittsburgh's solar-energy market. They feel that Pittsburgh can and will serve as a role model to the nation in the field of renewable energy.
You can learn more about Honeycomb Solar, LLC, at http://www.honeycombsolar.com or by writing to info@honeycombsolar.com.
Featured Product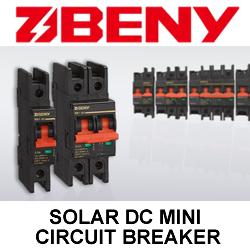 The BB1-63 modular miniature circuit-breakers can be used in solar DC circuits up to 1200 VDC (4-poles execution). Application in solar DC circuits, battery energy storage systems and UPS. Arc flash barrier design keeps solar equipment more safe and reliable. For DC circuit over-current protection.