Announces 3-Port PV and Battery Converter at Asia Pacific Clean Energy Summit
Ideal Power Converters (IPC), a developer of disruptive power converter technologies, announced today that it is the winner of the 2012 Defense Energy Technology Challenge for its new 3-Port Photovoltaic (PV) and Battery Converter. Over 250 high-quality submissions were vetted by the joint Department of Defense (DOD), Investment and Corporate review committee. The DOD is seeking to find, drive and deploy new innovative energy solutions to increase the safety of its troops, lower energy costs, and reduce its reliance on foreign energy supplies.

As a winner of the Defense Energy Technology Challenge, IPC has been selected to present to energy technologists of the U.S. Army, Navy and Air Force at the 2012 Asia Pacific Clean Energy Summit in Honolulu, August 13-15.
IPC will be introducing its 3-Port PV and Battery Converter, which will dramatically improve energy efficiency and system costs when combining distributed PV and battery storage systems. The new IPC product will accelerate the deployment of combined PV and battery systems in EV fast charging directly from solar carports, reducing peak demand charges of installations, and reducing diesel generator dependency of remote operations.
"The Defense Department has taken a strong leadership position in accelerating adoption of clean energy technologies, and Hawaii is where many of these technologies will be deployed first," said Paul Bundschuh, Vice President of Business Development for Ideal Power Converters. "We are honored that the DOD has recognized IPC's technology as impactful for the defense industry and selected IPC as the winner of the Defense Energy Technology Challenge, as this competition encourages and rewards innovative technology and products."
IPC's flagship product is a 30kW inverter that delivers 480V AC 3-phase power and supports grounded PV arrays without an internal or external transformer. It weighs only 94lbs compared to the 1,200lbs of conventional 30kW 480VAC PV inverters with isolation. IPC's 30kW inverter conforms to UL1741 and achieved a CEC-weighted efficiency of 96.5 percent. This efficiency rating is superior to any other CEC-listed PV inverter under 100kW with isolation for grounded arrays, the de facto standard in the United States.
The IPC inverter is used for large commercial rooftop arrays and solar carports, where physical space restrictions can add significantly to installation costs. By using IPC's light weight inverter, installers have saved $0.15-$0.20/W in Texas and can save over $0.30/W in Hawaii, nearly as much as the inverter cost.
Multiple IPC 30kW inverters can be used in larger arrays. System configurations of one to ten inverters are typical, allowing this lightweight modular inverter to address one of the largest market segments for PV systems in the United States. The IPC inverter was developed and is being manufactured in volume in the United States at lower cost than competing systems.
About Ideal Power Converters
Electronic power converters provide the infrastructure for the clean energy revolution including renewable energy generation, electrical energy efficiency, smart power grids, and electric vehicles. Ideal Power Converters has patented and is further developing a revolutionary new power converter technology that significantly improves weight, size, cost, efficiency and reliability. IPC products will include solar inverters, wind converters, bidirectional battery and electric vehicle chargers based on its Universal Power Converter Platform™. IPC has received funding from the State of Texas Emerging Technology Fund, and has been awarded $2.5M from the U.S. Department of Energy Advanced Research Projects Agency – Energy (ARPA-E). IPC was also included in the "Cool Vendors in Solar Energy, 2012" report published by Gartner Inc. For more information, visit: www.IdealPowerConverters.com.
Featured Product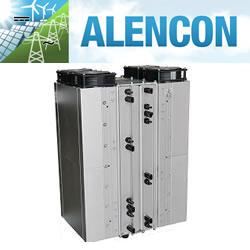 Alencon Systems is the premier manufacturer of high power, high voltage DC:DC optimizers for alternative energy applications including solar, battery energy storage, Microgrids, Fuel Cells and Electric Vehicle charging. Alencon's DC:DC converter offerings include the SPOT, BOSS and CUBE series DC:DC converters. The SPOT is a modular, uni-directional DC:DC solution ideal for solar applications. The BOSS is a modular, bi-directional unit for use with battery energy storage. The CUBE is a monolithic DC:DC converter which is available in both uni-directional and bi-directional modalities. Pictured above, is the Alencon SPOT.