All three of the "Gode Wind" projects are located 38 to 40 kilometres north of the Norderney Island in the North Sea.
Cuxhaven, 14. August 2012 – The wind farm project developer, PNE WIND AG

(ISIN: DE000A0JBPG2), sold its offshore wind parks "Gode Wind" I, II and III to the Danish energy
company DONG Energy. The projects "Gode Wind" I and II are now 100% owned by DONG Energy.
For the projects inclusive development costs, PNE WIND AG has already received an upfront
payment of euro 57 million. With the successful completion of predetermined project development
steps, approximately euro 100 million in additional milestone payments are expected to become due
till 2015. Substantial milestones include the final investment decision for the "Gode Wind" I and II
projects. The "Gode Wind III" project rights will be transferred to the buyer when the permit from the
German Federal Maritime and Hydrographic Agency (BSH) is issued. In addition to the above
mentioned items, PNE WIND AG will as part of the transaction support the projects as a service
provider to DONG Energy for the next five years. The service contact has a value of up to euro 8.5
million.
All three of the "Gode Wind" projects are located 38 to 40 kilometres north of the Norderney Island in
the North Sea. The "Gode Wind" I and II projects have both been issued building permits from the
BSH and brought to the ready-to-build point of development. Furthermore, TenneT has issued an
unconditional grid connection guarantee. The "Gode Wind III" project is in an earlier stage of
development and current efforts are targeted at obtaining the building permit as quickly as possible.
CEO Martin Billhardt comments, "This deal marks the most important business transaction in PNE
WIND AG's history. The deal solidifies our financial base and the funds provide resources for further
project development and a perspective to pay dividends to our shareholders. With this transaction,
PNE WIND AG and DONG Energy will continue to build on the excellent relationship which began
with the "Borkum Riffgrund" projects. The first payment of euro 57 million has already been paid by
DONG Energy. We herewith reconfirm our cumulative EBIT guidance of euro 60 to 72 million for the
fiscal years 2011 to 2013."
PNE WIND AG advisors during this transaction were Augusta & Co. (London) for commercial affairs
and Watson Farley & Williams (Hamburg) for legal affairs.
Featured Product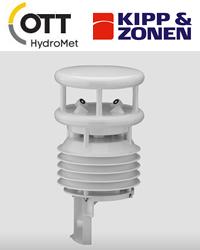 The WS50PV is an affordable, compact all-in-one weather sensor measuring the most critical parameters for commercial and industrial PV monitoring. Equipped with a suite of professional measuring sensors, the WS50PV can handle air temperature, relative humidity, barometric pressure, wind direction, and wind speed in one efficient housing to simplify mounting. Add an external temperature or rain sensor to the single-wire digital Modbus interface for fast and easy integration. The WS50PV is the tool you need for unlocking solar energy performance.