• Initial purchase orders received for more than 100 systems • To be deployed in Southeast Asian telecom networks
For Immediate Release – August 16, 2011

VANCOUVER, CANADA– Ballard Power Systems (NASDAQ: BLDP) (TSX: BLD) today announced that it has received purchase orders for 102 fuel cell power generation systems to be delivered to the Company's new Southeast Asian distributor, Cascadiant Inc. The systems will be deployed in the networks of two wireless telecom customers in Indonesia, to provide reliable and cost-effective backup power in the event of grid outages.
Ballard recently closed a transaction to acquire select assets from IdaTech, a Ballard customer for the past several years. Assets included product lines, distributor agreements (including Cascadiant) and customer contracts. Ballard had been supplying FCgen-1020ACS fuel cell stacks for use in IdaTech systems, as that Company developed markets, built key customer relationships and demonstrated the commercial robustness of its direct hydrogen and methanol fuelled products.
The transaction, in combination with Ballard's Dantherm Power hydrogen systems, has enabled establishment of a comprehensive portfolio of fuel cell power generation products for backup and continuous power. (Please visit www.ballard.com/powergenerators to view the product offering)
John Sheridan, Ballard's President and CEO said, "The asset acquisition has given Ballard immediate financial and strategic benefits. Financially, the transaction is expected to be accretive for our revenue, EBITDA and cash flow in 2012 and beyond. Strategically, the addition of methanol fuelled systems provides Ballard with a complete set of fuel cell power generation products, along with distributor and customer relationships in leading markets for fuel cell commercialization."
The purchase orders for 102 systems include direct hydrogen ELECTRAgenTM-H2 systems, to be deployed in the network of an Indonesian service provider in order to meet 'short duration runtime backup power' requirements. In addition, the purchase orders include methanol fuelled ELECTRAgenTM–ME systems to be deployed in the network of a different Indonesian service provider in order to meet 'extended duration runtime backup power' needs. ELECTRAgenTM fuel cell power generation systems are more financially attractive to customers, as well as being more environmentally-friendly, than alternative lead acid battery or diesel generator backup power solutions.
Marshall Towe, President and CEO of Cascadiant said, "Backup power solutions are, by their nature, critical elements of telecom networks. Therefore, the decision to use fuel cell-based products has certainly been given careful consideration by our customers. Moreover, we are very pleased to be buying systems from Ballard, a clear leader in the fuel cell industry."
About Ballard Power Systems
Ballard Power Systems (TSX: BLD) (NASDAQ: BLDP) provides clean energy fuel cell products enabling optimized power systems for a range of applications. Products deliver incomparable performance, durability and versatility. To learn more about Ballard, please visit www.ballard.com.
This release contains forward-looking statements, related to forecasted revenue, EBITDA and cash flow, which are provided to enable external stakeholders to understand Ballard's expectations as at the date of this release and may not be appropriate for other purposes. These forward-looking statements are based on the beliefs and assumptions of Ballard's management and reflect Ballard's current expectations as contemplated under section 27A of the Securities Act of 1933, as amended, and Section 21E of the Securities Exchange Act of 1934, as amended. Such assumptions relate to Ballard's financial forecasts and expectations regarding its product development efforts, manufacturing capacity, and market demand, and include matters such as generating new sales, producing, delivering and selling the expected number of units, and controlling its costs.
These statements involve risks and uncertainties that may cause Ballard's actual results to be materially different, including, without limitation, the condition of the global economy, the rate of mass adoption of its products, product development delays, changing environmental regulations, its ability to attract and retain business partners and customers, its access to funding, increased competition, its ability to protect its intellectual property, changes in its customers' requirements, foreign exchange impacts on its net monetary assets and its ability to provide the capital required for product development, operations and marketing. For a detailed discussion of these risk factors and other risk factors that could affect Ballard's future performance, please refer to Ballard's most recent Annual Information Form.
Readers should not place undue reliance on Ballard's forward-looking statements and Ballard assumes no obligation to update or release any revisions to these forward looking statements, other than as required under applicable legislation.
Further Information
Guy McAree, +1.604.412.7919, media@ballard.com or investors@ballard.com
Featured Product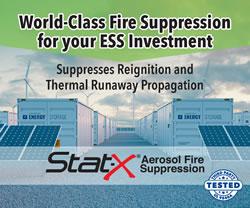 Stat-X® condensed aerosol fire suppression is a solution for energy storage systems (ESS) and battery energy storage systems (BESS) applications. Our Stat-X condensed aerosol fire extinguishing product was tested for efficacy in suppressing li-ion battery fires. It was found that the product successfully extinguished single and double cell battery fires. This testing was conducted in parallel with a large battery fire testing program on behalf of a large energy storage company.