Interview with James Brodrick, the manager of the U.S. Department of Energy (DOE) Solid-State Lighting (SSL) Program, on LED product designs, efficiency and market penetration
James Brodrick is the manager of the U.S. Department of Energy (DOE) Solid-State Lighting (SSL) Program, directing solicitations, portfolio management, strategic planning, and quality performance. Drawing on extensive technical and market knowledge, Dr. Brodrick has designed a comprehensive DOE national strategy for moving SSL from lab to market. The DOE SSL program encompasses nearly 50 active R&D projects, driving technology innovation and breakthroughs in efficiency and performance. On the market side, Dr. Brodrick has implemented a broad-based set of commercialization support strategies to ensure that DOE R&D investments result in commercial success. These activities are closely coordinated with research progress to ensure appropriate application of SSL products and to avoid buyer dissatisfaction and delay of market development.

Dr. Brodrick will be a presenter at Smithers Apex's LEDs 2012, opening the conference with his presentation "Where is the LED Revolution Headed?" Leading this conference and exhibition, which will take place October 10-12, 2012 in San Diego, CA, Brodrick shared some of his insights with us about the industry.
You have presented at LEDs many times now - what changes have you seen in the industry over this time?
The quality of LED products on the market is improving dramatically - not just in terms of efficacy, but also the quality of light (color, output, etc.). In the early days, we tested plenty of products through the DOE CALiPER program that simply did not perform as well as the incumbent products they were intended to replace, or did not meet the manufacturer claims. Today we're seeing more and more products that perform as claimed, and can compete with incumbent technologies.
We're also seeing a shift in product designs. Many early products were patterned after traditional technologies, but some manufacturers have already started moving away from that paradigm and are instead allowing SSL's unique characteristics and strengths to guide the design - just as the industry's focus is beginning to shift toward integral luminaires rather than replacement lamps. This approach makes it easier to take full advantage of LED lighting's capabilities and strengths - and, in the process, will make a more significant dent in our nation's energy consumption.
Why has LEDs penetration into general illumination been so low despite fast growth in other sectors and significant technology advances?
Market penetration for LED lighting will increase when LED products can truly compete with incumbent products on price and performance. Street lighting is one of the applications where SSL is already competing with incumbent technologies, helped in large part by its potential for greater durability and longer life. And cost trends are moving in the right direction. For example, the City of Seattle has implemented a comprehensive program to replace its high pressure sodium streetlights with LED streetlights. Seattle has seen a steady, sharp drop in the price it pays for streetlights when ordering at least 2500 units, dropping from $369 each in the fall of 2009, to $289 in the spring of 2010, to $239 in the fall of 2011, a 22% and 17% reduction, respectively.
What are you most looking forward to about LEDs 2012?
Conferences like LEDs 2012 offer an opportunity to interact face-to-face with a wide range of LED lighting experts, share updates, and learn the latest on a market that's changing rapidly. It will be interesting to hear what LED component, fixture and system suppliers are doing to drive value.
LEDs 2012 will be held October 10-12 in San Diego, CA, and will feature presentations from many of the organizations leading the way on lighting, including NIST, DOE, Marriott, IKEA, Cooper Lighting, Cree, OSRAM and many others. For more information, visit www.ledsconference.com
Featured Product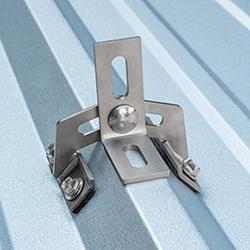 Explore new lines of income for your solar installation business with QuickBOLT's Stone Coated Steel roof mounts designed in partnership with metal roof manufacturers themselves. These SCS roof mounts work on all metal tile profiles and will help you bring in money you're missing out on. By not driving into the roofing material, QuickBOLT's Stone Coated Steel roof hooks maintain the integrity of the roof. Install with ease and confidence knowing your roof is protected against the harsh elements that these hooks are designed for.