SSX Ontario conference to focus on new opportunities and challenges - Toronto, September 6-7, 2012
August 14, 2012

Toronto, Ontario. The Ontario Power Authority (OPA) released the final rules for the "Small FIT" Feed-in-Tariff Program last Friday, August 10. "Small FIT" projects refer to solar PV systems 10-500 kW in size. These rules come four months after the Ministry of Energy's FIT Review Report and one month after the microFIT (projects under 10 kW) rules were released. The rules for "Large FIT" projects (500 kW – 10 MW) are not yet finalized.
The application window for a tranche of 200 MW in contracts will open on October 1 and close on November 30, 2012. With an average project size of 200 kW, this represents approximately 1,000 commercial-sized projects that should be moving forward in early 2013.
The timing of SSX ONTARIO: Solar Summit & eXpo, to be held at the Metro Toronto Convention Centre on September 6-7, 2012, could not be better.
The conference focuses on both advancing FIT 1.0 solar projects and preparing projects for the FIT 2.0 application window, opening three weeks later on October 1.
SSX ONTARIO is the international PV industry's first opportunity to connect and establish business relationships now that Ontario's FIT program is back on track.
The conference features over 100 expert summit speakers and 40+ leading edge exhibitors. The event is expected to draw over 1,000 delegates.
Ontario, Canada is now the second largest PV market in North America. According to Photon Magazine, Ontario added 310 MW of capacity in 2011. The province's Ministry of Energy recently reported approximately 500 megawatts of solar PV capacity now online, with another 1,600 MW currently under contract.
However, obtaining a FIT contract just got more complicated. Expecting another rush of applications, the OPA's new FIT 2.0 rules prioritize which projects will be awarded the contracts that guarantee between 38.8 to 54.8 cents (CDN) per kWh, for twenty years.
SSX Ontario features special sessions and workshops that focus on enabling solar projects to gain "priority points."
"The new program is about so much more than procuring clean energy," says Jacob Travis, President of Solar Network International, the sponsor of SSX ONTARIO. "Applications are now going to be prioritized according to the financial benefit they bring to Ontario's communities and public institutions."
Points are awarded for projects that include community and Aboriginal participation. Publicly funded institutions - schools, colleges, universities, hospitals, and long-term care homes that host projects or have a sizable equity stake are privileged. Municipal support and project readiness are other keys to earning priority points.
Summarizing the situation, Travis concludes: "Ontario's leading efforts in distributed generation now include policies enacted to also help distribute the financial benefits from these projects."
To register and for more information, visit www.SSXOntario.com, email events@solarnetwork.org or call 647-932-9750.
To exhibit, sponsor or advertise, contact graham@solarnetwork.org or call Graham 647-932-9751.
About Solar Network International: Solar Network International, and its flagship regional division, Ontario Solar Network, are PV business development organizations based in Toronto, Ontario. Since the launch of Ontario's FIT program two years ago, Solar Network established a reputation as the leader in convening industry stakeholders. In 2011, the network hosted three one-day summits. Now, for FIT 2.0, Solar Network is expanding its format to meet the needs of Ontario's leading role in the North American PV market. In 2013 Solar Network will be expanding into other regions.
Featured Product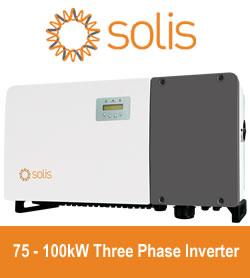 Solis75kW - 100kW series high-power string inverters are widely used in industrial and commercial rooftops. Solis's new three-phase string inverter is the first choice for industrial and commercial photovoltaics. 75-100kW three phase series string inverter have Maximum 28 strings input, support "Y" type connection in DC side. Maximum string input current 13A, support bifacial modules access.Supports anti-PID function to improve system efficiency.