Exhibit floor 95 percent sold out; Expo Visitor Registration now open
RENO (August 20, 2012) – Reno is the world's business center for the geothermal industry, and Nevada accounts for almost half of the country's current projects in development. On this stage, the Geothermal Energy Association (GEA) will host the Geothermal Energy Expo, the world's largest gathering of the companies that provide services and products for geothermal resource exploration, characterization, development, production and management. The GEA Geothermal Energy Expo 2012 will be held from September 30-October 3 at the Peppermill Resort and Casino in Reno in conjunction with the GRC Annual Meeting. Expo visitor registration is now open at:

http://www.gifttool.com/registrar/ShowEventDetails?ID=1872&EID=12336
"The GEA Geothermal Expo has become a valuable forum for industry developments and dialogue, and every year we attract more national and international industry leaders and exhibitors who see real value in the connections for buyers and sellers," said GEA Executive Director Karl Gawell. The Expo has not only become a marketplace for national buyers and sellers, but also a hub for international business, from which the U.S. geothermal industry can particularly benefit. In 2011, exhibitors from 13 different countries and visitors from many more participated in the Expo, and this year representation is expected from countries including Australia, Canada, Chile, China, Costa Rica, Ethiopia, France, Germany, Iceland, Indonesia, Italy, Japan, Kenya, Mexico, New Zealand, Philippines, Thailand, Turkey and the United States.
Nationally, Nevada is steadily claiming its position as a leading developer of geothermal capacity with 59 projects in development, accounting for more than 2,000 MW. Four of the seven geothermal plants that came online in the past year are in Nevada, including Tuscarora and McGinness Hills (Ormat Technologies), San Emidio (U.S. Geothermal), and Beowawe 2 (Terra-Gen/TAS Energy). Additionally, all three of the 2012 GEA Honors award recipients are either based in Nevada or bringing plants online in the state, including Enel Green Power North America (Technological Advancement), Ram Power (Economic Development), and Ormat Technologies, Inc. (Environmental Stewardship). "Returning to the hub of the geothermal industry is exciting because of the contributions that the state is making to the geothermal economy," Gawell noted.
GEA points to over 4,500 MW of geothermal power under development in Nevada, California and Oregon to underscore that geothermal power can continue to play a significant role in meeting the United States' clean energy needs, by replacing older energy technologies such as coal. Nevada is No. 1 in the nation for installed geothermal energy capacity per person. Reno is the only major metro area that produces enough geothermal energy to meet its entire residential load, and the region features a high concentration of raw geothermal resources with strategic geographic access to California and other Western states.
Event organizers expect more than 2,000 attendees from the United States and abroad to walk the Expo floor. The complete exhibitor list is available at http://www.geothermalenergy2011.com/exhibitors.asp. The Expo is made possible by Gold Level sponsor Ormat, Bronze level sponsor Pratt & Whitney, as well as sponsors Geothermal Resource Group, TNG Energy Services and Calpine.
For information on visitor registration, please visit
http://www.gifttool.com/registrar/ShowEventDetails?ID=1872&EID=12336. Student registration is complimentary with valid student ID.
For more information about exhibitor and sponsorship opportunities, please contact Kathy Kent at kathy@geo-energy.org.
Join the conversation on Twitter by following GEA at @geoenergist and #GEAExpo.
About the Geothermal Energy Association:
The Geothermal Energy Association (GEA) is a trade association comprised of U.S. companies who support the expanded use of geothermal energy and are developing geothermal Resources worldwide for electrical power generation and direct-heat uses. GEA advocates for public policies that will promote the development and utilization of geothermal Resources, provides a forum for the industry to discuss issues and problems, encourages research and development to improve geothermal technologies, presents industry views to governmental organizations, provides assistance for the export of geothermal goods and services, compiles statistical data about the geothermal industry, and conducts education and outreach projects. For more information, please visit http://www.geo-energy.org/.
Featured Product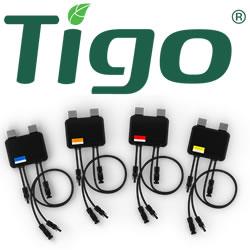 Tigo will announce the new product launch of the patented UHD-Core TS4-A (Advanced Retrofit/Add-on) Platform at SPI 2019. The new TS4-A-M (Monitoring) & TS4-A-S (Safety) units have improved lightweight hardware and lower labor costs to address a range of functions and budgets. The TS4-A-M allows module-level monitoring via Tigo's SMART Website & App. The TS4-A-S is UL-certified as a rapid shutdown solution for residential and C&I PV system. Both units join the Tigo's multivendor solution that works with almost any inverter and smart module in the global PV market. Contact sales@tigoenergy.com for pricing, shipping, and availability in Q4'19.