Blue Oak was ranked #3063 on this prestigious list which has become the hallmark of entrepreneurial success.
DAVIS, Calif.--Blue Oak Energy, one of the nation's leading commercial and utility scale solar companies was named to the 2012 Inc. 5000 list, an exclusive ranking of America's fastest growing private companies. Blue Oak was ranked #3063 on this prestigious list which has become the hallmark of entrepreneurial success.

"As an Inc. 5000 honoree, Blue Oak Energy shares a pedigree with Zappos, Microsoft, Clif Bar, Patagonia, Oracle and other notable alumni," stated Eric Schurenberg, Editor in Chief of Inc. magazine. "Now more than ever, we depend on Inc. 5000 companies to spur innovation, provide jobs, and drive the economy forward."
Blue Oak Energy's mission is to design and build as much solar energy capacity as possible to create a strong, sustainable renewable energy industry. The company's comprehensive list of technical services and national reach is best represented by its internationally recognized customer base.
"This recognition by Inc. magazine is a tremendous honor and an achievement that we are very proud of," stated Tobin Booth, founder and CEO of Blue Oak Energy. "This is a testament of our team's commitment to clean photovoltaic electricity and drive to deliver solid technical solutions to our customers and their solar energy projects."
To rank among the 2012 Inc. 5000, Blue Oak Energy had to thrive through three of the toughest years the U.S. economy has experienced in decades. During this recession, Blue Oak has increased its staff size by 50% and has grown from an engineering firm to providing full engineering, procurement and construction (EPC) services.
About Blue Oak Energy
Blue Oak Energy was founded on a singular belief – the transition to clean, renewable energy is an irreversible and irresistible trend. Since 2003, the company has been building a world-class technical team, solely focused on designing, building, and maintaining photovoltaic (PV) systems in the United States. For more information on Blue Oak Energy and commercial and utility scale solar electric systems, visit http://www.blueoakenergy.com.
About Inc. Magazine
Inc., the only major business magazine focused exclusively for CEOs of fast-growing, private companies, delivers real solutions for today's innovative company builders. Inc. provides hands-on resources and market-tested strategies for managing people, finances, sales, marketing, and technology.
Featured Product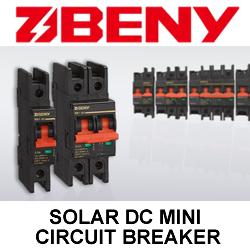 The BB1-63 modular miniature circuit-breakers can be used in solar DC circuits up to 1200 VDC (4-poles execution). Application in solar DC circuits, battery energy storage systems and UPS. Arc flash barrier design keeps solar equipment more safe and reliable. For DC circuit over-current protection.