Former SunCarrier Services subsidiaries in Spain, Italy and Greece now named meeco Services
Further to the Board of Directors decision to rename some of its European country subsidiaries back in April this year, the renaming process of all of the concerned legal entities has now successfully been completed. As initially decided, the renaming process had to follow a local strategy not only converting the "SunCarrier Services" root into "meeco Services" but also adding the country in the local language as a suffix. Affected by this change were the country offices in Spain (Alicante), Italy (Milan) and Greece (Athens). The fourth meeco subsidiary, repulp GmbH (Germany), which recently moved its offices from Essen to Dresden has also undergone the same legal renaming process, joining thus the rest of the subsidiaries under the "meeco Services"-branding umbrella.

"The initial rule we had set ourselves was followed in almost all cases with the exception of Spain, where we were legally obliged to keep to meeco Services SL" says Dr. Gunther Pratz, Director of Structure and Organization of The meeco Group. "For all other subsidiaries we were able to execute the change as desired, and now have four solid European entities that emphasize our geographical presence and add value and visibility to the fast-growing meeco brand" emphasizes Dr. Pratz.
The next step in the renaming process is to reflect the shift at a visual level. This task has been assigned to MEDIENKONTOR Dresden GmbH, The meeco Group's expert in PR and Communications. "Renaming the offices implies updating a wide range of materials such as office space and vehicle signage, business cards, office decoration, answering machine message among others" comments Filipe Webermann, in charge of the Communication Design services at MEDIENKONTOR. "To achieve this we are frequently in contact with each office and need to understand the local hurdles like production times or types of material available and thus be flexible while implementing a consistent identity across the different markets" concludes Webermann.
meeco Services Italia Srl, meeco Services Hellas S.A., meeco Services Deutschland GmbH and meeco Services SL actively pursue their mission to offer advisory services and technology solutions in their respective markets. "The meeco Group of today and tomorrow offers much more than just SunCarrier installations and projects. We work with project developers, businesses, governments, technology providers, EPC contractors and investors to structure, finance and commission highly bankable renewable energy projects" explains Jo Hanns Dieter Trutschler, Sales Director of The meeco Group.
For more information please visit: www.meeco.net
Featured Product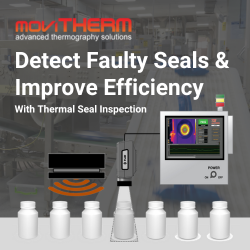 MoviTHERM's Thermal Seal Inspection (TSI) solution provides precise and reliable detection of defects in a variety of packaging types, including pouches, bags, blister packs, bottle caps, and more. By detecting defects in your packages, the TSI solution helps increase efficiency in your production line and ensures top-quality packaging is delivered to your customers every time. With state-of-the-art technology and an experienced team, MoviTHERM is dedicated to delivering accurate inspection solutions and peace of mind to its clients. Contact MoviTHERM today to learn more about their thermal seal inspection solution.