- Committee Comprised of 15 Luminaries across the Green Technology and Clean Energy Landscape -
NEW YORK, N.Y. (August 27, 2012) – The Advanced Energy Center (AERTC.org), a partnership of academic institutions, energy providers and industrial corporations dedicated to innovative energy research, education and technology deployment, today announced the highly acclaimed individuals serving on the Scientific Advisory Committee of the organization's upcoming Advanced Energy 2012 conference.

Now in its sixth year, Advanced Energy 2012 has emerged as one of the largest conferences dedicated to the future of energy development. The conference is expected to attract thousands of attendees and provide them with the opportunity to interact with leaders from industry, government and academia who are responsible for shaping the future of energy policy in the U.S.
Helping to advise and provide direction for the conference and ensure its success is Advanced Energy 2012's Scientific Advisory Committee. This prestigious committee is comprised of 15 executives, directors, deans and other high-ranking professionals representing a number of universities, laboratories, government agencies and businesses.
The members of Advanced Energy 2012's esteemed Scientific Advisory Committee include:
*Chairperson Dr. Doon Gibbs, Deputy Director for Science and Technology, Brookhaven National Laboratory
*Dr. Ed Bogucz, Executive Director, Syracuse Center of Excellence in Environmental and Energy Systems
*Dr. Charles Rubenstein, Professor, Pratt Institute
*Dr. Cornelius Murphy, President, SUNY College of Environmental Science & Forestry
*Dr. Ellen Burkhard, Senior Project Manager, Clean Energy Research and Market Development, NYSERDA
*Dr. Nada Anid, Dean, School of Engineering and Computing Sciences, New York Institute of Technology (NYIT)
*Dr. Devinder Mahajan, Jefferson Science Fellow, United States Department of State – Bureau of Energy Resources
*Dr. Esther Takeuchi, SUNY Distinguished Professor, Stony Brook University, Advanced Energy Center
*Dr. Kurt Becker, Associate Provost for Research and Technology Initiatives, NYU-POLY
*Dr. Kamal Shahrabi, Dean of the School of Engineering Technology, Farmingdale State College
*Dr. Satyen Muhkerjee, Chief Scientist and Senior Director, Philips Research
*Dr. Dennis Assanis, Provost and Senior Vice President for Academic Affairs, Stony Brook University
*Dr. Harry Davitian, President, Entek Power
*Dr. Pradeep Haldar, Vice President for Clean Energy Programs, CNSE, COO & CTO, USPVMC
*Dr. Jurij Paraszczak, Director of Industry Solutions and Smarter Cities, IBM
"This year's prominent panel of energy experts will ensure that the technical and scientific content of Advanced Energy 2012 meets the highest standards," said Dr. Yacov Shamash, one of the five Conference Co-Chairpersons and VP for Economic Development at Stony Brook University. "To have fifteen of the most prestigious and well-known leaders from research, academia and industry shaping this conference guarantees Advanced Energy 2012 will be the number one conference of its kind in the country."
"Brookhaven National Lab is very pleased to once again partner with other research, business and public policy entities in New York State supporting and participating in the Advanced Energy conference," said Dr. Doon Gibbs, chairperson of the Scientific Advisory Committee and Deputy Director for Science and Technology at the Brookhaven National Laboratory. "In just a few short years, this meeting has grown into one of the largest such gatherings in the Northeast United States and an important forum for discussion of our energy future. It is an ideal venue for researchers to discuss their work with others who are pursuing similar objectives and find opportunities for useful collaborations. It also allows investors and other entrepreneurs a great opportunity to explore new and growing areas of research applications that might give rise to energy-related businesses that will further advance the uses of important technologies."
For more information about Advanced Energy 2012, including registration, conference schedule, sponsorship opportunities and exhibitor details, visit: http://www.aertc.org/conference2012/.
About The Advanced Energy Research and Technology Center (AERTC.org)
Headquartered at Stony Brook University, the Advanced Energy Research & Technology Center is a true partnership of academic institutions, research institutions, energy providers and industrial corporations. The AERTC works to develop advanced cutting-edge technologies to explore new ways for the production of clean energy, enhancing production from renewable sources, and finding efficient methods for distribution and storage of energy with minimal impact on local ecosystems. Its mission is innovative energy research, education and technology deployment with a focus on efficiency, conservation, renewable energy and nanotechnology applications for new and novel sources of energy and to strengthen partnerships among the business, government and academic sectors, to help move toward a sustainable energy future that strengthens the economy, the environment and policy at all levels of government.
Featured Product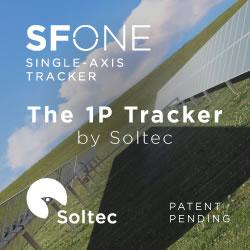 SFOne is the 1P single-axis tracker by Soltec. This tracker combines the mechanical simplicity with the extraordinary expertise of Soltec for more than 18 years. Specially designed for larger 72 an 78 cell modules, this tracker is self-powered thanks to its dedicated module, which results into a lower cost-operational power supply. The SFOne has a 5% less piles than standard competitor, what reduces a 75% the labor time.