August 27, 2012

The current 35 operational CSP plants in Spain have reached a milestone this summer when last July 15, met the 3.23% of the daily national electricity consumption, an energy supplied to the Spanish grid directly from the sun.
On July 11, another milestone was achieved, at 17:00 hours; the 4.1% of electricity fed into the grid came from the CSP plants.
Spain is not only the world leader in installed concentrated solar thermal power, but also the world leader as technology supplier. The CSP sector could be one of the most profitable for Spanish companies in the foreseen billionaire new global market, whenever new regulations don't put barriers to the companies as they have been announced in the upcoming energy reform the Spanish government is setting up.
About Protermosolar
Protermosolar is the Spanish Association for CSP Industry, founded in 2004 to promote the development of this sector in Spain. With around 100 members, companies involved are related with CSP in the whole value chain. Protermosolar is also founder and vice-president of ESTELA, the European CSP Association.
Protermosolar aims to promote the expansion and development of CSP technology, both in Spain and around the world by:
• Promoting the development of CSP plants in a stable regulatory framework to meet the deployment at large scale.
• Promoting the technology development and the partnership between authorities, research centers, universities and companies.
• Promoting the excellence in planning, design, construction and operation of CSP plants.
• Disseminate knowledge about this technology, as well as its great potential and economic advantages for the whole society and contribute the fight against climate change.
About CSP
Concentrated Solar Thermal Power (CSP) is a technology to concentrate the sunlight to get heat and to turn this heat into electricity.
Sunlight (direct normal irradiation) is concentrated into a point or a line (a receiver or heat collector) generating heat. This heat is then used to boil water and produce steam which drives a turbine which in turn drives a generator.
CSP plants with thermal storage can operate during the evening when the sun has gone thanks to the heat stored (generally in a tank with molten salts).
CSP plants can operate in "hybrid" mode with other fuels as biomass, biogas, natural gas or coal.
Featured Product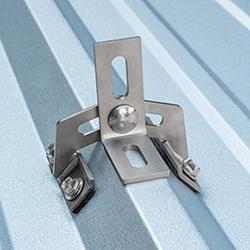 Error-Proof Compression: The QB2 doesn't leave any room for user error when it comes to Microflashing® compression. Once the Dual Drive Shoulder Screw is secured, the Microflashing® is compressed. Only 3 Components: The QB2 is comprised of Microflashing®, an L-foot and a Dual Drive Shoulder Screw. No more Nuts needed to tighten and secure the L-foot! Not only does this simplify the installation process, it also cuts down the installation time.