Innovative Product to Debut at Solar Power International 2012 in Orlando, Florida, September 10-13
Lake Mary, FL., August 29, 2012 – Advanced Solar Photonics, LLC (ASP), an American manufacturer of photovoltaic (PV) equipment and provider of turnkey alternative energy systems, announced that it will be introducing its proprietary Integrated Solar Array for PV systems at Solar Power International 2012 on September 10-13 at the Orange County Convention Center in Orlando, Florida.

The ASP Integrated Solar Array (ISA) is an innovative solution designed to reduce the cost of balance of systems (BOS) and solar panels. It fully integrates the solar PV modules into the mounting structure thereby eliminating the aluminum frame, grounding wire, clips, nuts, and bolts.
Reducing the installed cost of solar energy systems will help drive widespread, large-scale adoption of renewable energy technology. The goal is to further drive down the cost of solar electricity and enable solar-generated power to account for a greater share of America's electricity generation.
As panel prices have dropped from approximately $3/Watt in 2009 to less than $1/Watt in 2012, the share of balance of systems (cabling, wiring, racking and mounting) among total system costs has increased. Balance of systems costs currently comprises 10% to 15% of total system costs. The Integrated Solar Array can reduce BOS costs of ground mount PV systems by up to 50%.
By eliminating the aluminum frame, approximately $25 per panel or $0.10/Watt is saved. Without the frame, no grounding wire is needed ($0.015/Watt). Further cost savings on clips, nuts and bolts are realized by integrating the panels into the mounting structure ($0.04/Watt). As the integrated product is completely assembled at the ASP factory with the same labor required to manufacture framed, non-integrated panels, the amount of labor required in the field to install the ISA is also reduced significantly ($0.02/Watt). The total cost savings of the Integrated Solar Array product is approximately $0.175/Watt, or up to half of total BOS costs for ground-mounted systems.
ASP will be displaying the single largest array of 400 Watt monocrystalline PV modules ever shown at SPI along with the next generation of Glass-to-Glass and Bifacial PV Modules made in the U.S.
ASP will be featuring for the first time at SPI a new generation of dual-axis solar tracking designed for large commercial and utility scale solar power plants. The ASP dual-axis tracker maximizes solar tracking performance while reducing costs and operational risks.
ASP will be exhibiting in Hall B, Booth #3001 – a 1600 sq. ft. island – one of the largest PV displays at SPI 2012. On hand will be company executives and product experts to answer questions and discuss opportunities.
Advanced Solar Photonics, LLC (ASP), is a manufacturing and research and development center for crystalline silicon solar photovoltaic (PV) modules for utility, commercial and residential applications. Based on the latest cell efficiency, light transmission, and encapsulation technologies, ASP focuses on high-efficiency, state-of-the-art solar PV modules ranging from 200 Watts to 400 Watts. ASP is the one of the largest producers of crystalline silicon PV modules in the United States and is one of the few producers in the U.S. of Buy American Act compliant products suitable for government, military and municipal projects and meeting the requirements of Section 1605 of the American Recovery and Reinvestment Act of 2009.
Featured Product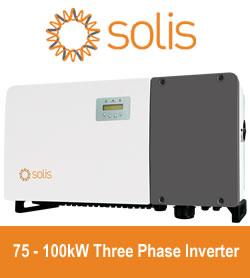 Solis75kW - 100kW series high-power string inverters are widely used in industrial and commercial rooftops. Solis's new three-phase string inverter is the first choice for industrial and commercial photovoltaics. 75-100kW three phase series string inverter have Maximum 28 strings input, support "Y" type connection in DC side. Maximum string input current 13A, support bifacial modules access.Supports anti-PID function to improve system efficiency.