Arrays at Two Facilities Will Generate Approximately 1.5 MW of Solar Energy
PITTSBURGH … Eaton Corporation and Tangent Energy Solutions today announced a collaboration to develop solar energy generation installations at Eaton's facilities in Coraopolis and Vanport Township, Pa. The project will include a 1.3-megawatt (MW) ground mount solar array at Eaton's Beaver facility and a 200-kilowatt (kW) rooftop array in Coraopolis. The array constructed at Eaton's Vanport Township facility on Georgetown Lane will be the largest solar installation in western Pennsylvania to date.

Solar power will contribute about 25 percent of the electricity used by the Vanport facility. Both arrays will provide Eaton with 1.76 million kilowatt-hours (kWh) of clean electricity per year and will displace 2.7 million pounds of carbon dioxide and other greenhouse gases per year, which is the equivalent of removing 238 cars from the road.
In addition to the considerable environmental benefits, the project is projected to save Eaton energy costs over the term of twenty years. Tangent, headquartered in Kennett Square, Pa., will monitor and maintain the solar assets for Eaton over the lifetime of the project. The project will also support jobs in western Pennsylvania through the use of local and regional construction companies.
"We chose Tangent for this project because they understand the more complex energy systems of large, industrial companies," said John Vernacchia, manager, Renewable Energy Segment, Eaton. "Their comprehensive solution will improve our costs now and in the future, while reinforcing our commitment to the environment."
On-site solar generation assets will be provided by Tangent at no capital cost to Eaton who will purchase the energy produced at a set rate through a long-term Power Purchase Agreement (PPA).
Eaton will supply Power Xpert solar inverters, electrical disconnects, combiner boxes and other equipment for the project. Eaton will also staff the engineering services and construction management teams. The system's solar panels were provided by Motech Industries in Newark, Del.
"This agreement is another example of Eaton's leadership in sustainable, green energy solutions and we're thrilled to be collaborating on these projects," said Dean Musser, president and chief executive officer, Tangent Energy Solutions. "The natural fit of Eaton's equipment, engineering and construction capabilities, with our development, technology and energy experience was the success formula for these projects."
Site clearing in advance of construction began last week with an expected completion date of November 30, 2012.
Project financing was provided by Laurel Capital of Radnor, Pa. and First Niagara Bank of Buffalo, N.Y. The project is also being financed in part by a grant from the Commonwealth of Pennsylvania, Commonwealth Financing Authority.
About Eaton Corporation
Eaton's electrical business is a global leader in power distribution, power quality, control and automation, power monitoring, and energy management products and services. Eaton is positioned, through its global electrical product series and services to answer today's most critical electrical power management challenges.
Eaton Corporation is a diversified power management company with more than 100 years of experience providing energy-efficient solutions that help our customers effectively manage electrical, hydraulic and mechanical power. With 2011 sales of $16.0 billion, Eaton is a global technology leader in electrical components, systems and services for power quality, distribution and control; hydraulics components, systems and services for industrial and mobile equipment; aerospace fuel, hydraulics and pneumatic systems for commercial and military use; and truck and automotive drivetrain and powertrain systems for performance, fuel economy and safety. Eaton has approximately 73,000 employees and sells products to customers in more than 150 countries. For more information, visit www.eaton.com.
About Tangent Energy Solutions
Tangent Energy Solutions (www.tangentenergy.com) reverses the traditional utility driven approach to developing the smart grid by partnering with commercial and industrial customers to optimize the "grid behind the meter." By providing clean energy assets and technologies at no capital cost, Tangent saves C&I energy customers 20%+ while increasing the amount of renewable content in their supply. Tangent actively manages on-site assets to decrease a customer's reliance on grid sourced energy, especially during peak demand periods. As a result, both the end-customer and the utilities benefit. Tangent is a venture-backed company founded in 2009 by a management team that has been providing commercially successful energy innovations to mainstream C&I customers for 30 years.
Featured Product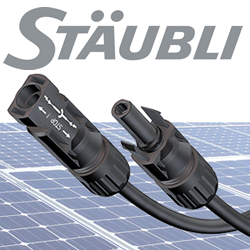 ​Stäubli Electrical Connectors are used on more than 300 GW, over 50% of the PV capacity worldwide. The MC4 family of UL and TUV listed products include connectors, in-line fuses, branch connectors, cable assembly and more.