Executive team prepares to position the company as a global leader in sustainable energy
SAN JOSE, CA (September 5, 2012) ó SunWize Technologies, Inc., a global Engineering, Procurement, and Construction company, a premier Distributor of sustainable energy products, and a Developer of engineered solutions for mission-critical projects, has announced a number of changes to its executive leadership team. Current Chief Commercial Officer, David Kaltsas, has been appointed as the company's new President and Chief Operating Officer, and will oversee SunWize's day-to-day operations. Scott Tonn will continue in his Chief Executive Officer role, focusing on SunWize's strategy and high-level partnerships which will position SunWize as a global leader in the sustainable energy marketplace.

"As a pioneer in the solar industry, SunWize is committed to making the earth a better place by continually expanding the use of sustainable energy," said CEO Scott Tonn. "The changes we've made within our executive team are an important milestone on the road to achieving that important goal. I truly believe that this new group has what it takes to propel our company to a position of domestic and global leadership in the months and years ahead."
As SunWize's new President and Chief Operating Officer, Kaltsas will lead all operations, including the company's Sustainable Energy Group, Distributed Power Group and Industrial Power Group segments. In his previous SunWize roles as Chief Commercial Officer and Chief Strategy Officer, Kaltsas grew the business an impressive 300 percent. "I'm sincerely looking forward to continuing to work with Scott and our entire team to pursue an exciting strategic direction," Kaltsas said. "This reorganization capitalizes on the strengths of our leaders, making it possible for SunWize to achieve a new level of growth within this industry."
Additional changes include the appointment of Chad Stuckey as Vice President of SunWize's Distributed Power Group. Stuckey will have direct oversight of the segment's P&L. Stuckey comes to SunWize from a previous position as Associate Director of Eastern Region Sales at Trina Solar. While at Trina Solar, Stuckey helped develop the solar module supplier's brand and rapidly grew its market share. Supporting Mr. Stuckey and the Company's Distributed Power Group, Mr. James McGrath will resume his former role with the Company as DPG Sales Manager, Eastern US and Mr. John White will continue as DPG Sales Manager, Western US.
Two other current SunWize employees have been promoted to Vice President positions. Formerly Director of Corporate Marketing, Amy Hartzer, takes on a new role as Vice President. As the Vice President of Corporate Marketing, Hartzer will oversee all aspects of the corporate marketing strategy and corporate communications. Dave Eveland is the new Vice President of Sales and Marketing for SunWize's Sustainable Energy Group, responsible for commercial projects' sales and marketing initiatives. Eveland comes to this new position from his former role as Director of Commercial Project Sales for SunWize.
"I'm very pleased that SunWize has been able to assemble such a strong, driven, and global, diverse team", Tonn said. "These individuals are leaders with a passion for sustainable energy and a level of expertise unmatched within the industry. I believe I speak for our entire company when I say that we're very enthusiastic about SunWize's future."
ABOUT SUNWIZE TECHNOLOGIES, INC:
Delivering sustainable energy solutions to leading public and private organizations for over twenty years, SunWize is a global Engineering, Procurement, and Construction company, a premier Distributor of sustainable energy products, and a Developer of engineered solutions for mission-critical projects. By leveraging Mitsui's $66B global network both upstream and downstream, SunWize provides businesses, government agencies and dealers with the resources they need to execute sustainable energy projects on time and within budget.
Featured Product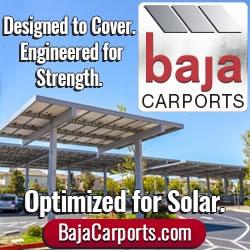 Baja Carports offers an extensive solar support system product line customized to customers' site specifications by in-house engineers, meeting their parking lot coverage, plus optimal PV production needs. Baja's Full Cantilever Tee is often paired with its Semi and Full Cantilever carports to meet live/loads up to 60psf and wind speeds to 160mph. All Baja products are pre-fabricated, bolted connections, pre-galvanized structural steel for fast on-site installation and project aesthetic requirements."