The Geothermal Resources Council (GRC) publishes entries to the 33rd Annual Amateur Photo Contest
Davis, CA The results of the 33rd Geothermal Amateur Photo Contest will be announced at the Geothermal Resources Council 2012 Annual Meeting. The purpose of the contest is to showcase quality photography featuring geothermal energy. The GRC has published a presentation of all the entries online.

58 photographs were entered in the competition from 23 amateur photographers from around the world. The stunning images can be seen on the GRC Flicker account at http://www.flickr.com/photos/geothermalresourcescouncil/sets/72157631428853618/show/.
The photos will also be featured throughout the GRC Annual Meeting.
Winners will be announced at the Annual Membership Meeting & Awards Luncheon to be held Wednesday, October 3 at the GRC Annual Meeting.
Members and non-members can register online at www.geothermal.org to attend the 36th GRC Annual Meeting themed "Geothermal: Reliable, Renewable, Global," Sept. 30-Oct. 3, 2012, at the Peppermill Resort Spa, Reno, Nevada, USA.
Registration to the GRC Annual Meeting also includes entry to the GEA Energy Expo.
Members of the working media who wish to cover the event may contact Ian Crawford of the GRC at icrawford@geothermal.org or (530) 758.2360 to register at no cost.
For more information about the GRC Annual Meeting, visit www.geothermal.org or call (530) 758-2360. For information about the GEA Energy Expo visit www.geothermalenergy2012.com.
##
About the Geothermal Resources Council:
With the experience and dedication of its diverse, international membership bolstering a more than 40-year track record, the Geothermal Resources Council has built a solid reputation as the world's preeminent geothermal association.The GRC serves as a focal point for continuing professional development for its members through its outreach, information transfer and education services.
For more information, please visit www.geothermal.org.
Get your daily geothermal news at Global Geothermal News [geothermalresourcescouncil.blogspot.com].
Become a fan on Facebook [www.facebook.com/GeothermalResourcesCouncil].
Follow GRC on Twitter [twitter.com/GRC2001].
Check out GRC's YouTube Channel [www.youtube.com/GeothermalCouncil].
###
Featured Product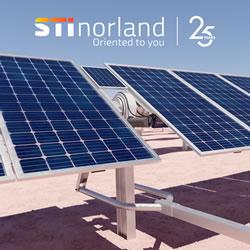 Developed in 2017, the STI-H250™ is consists of two linked torsion beams that rotate simultaneously following the sun's path. They are moved by just one motor, cutting supply and maintenance costs. STI-H250™ dual-row tracker includes backtracking mode to avoid shadowing between adjacent rows and stow function to protect the tracker in extreme wind conditions. For cleaning, vehicles can pass between trackers and each row can be placed in a different position.