As CSP Today Sevilla 2012 continues to expand, CSP Today is delighted to announce that SENER have partnered as an exhibitor with the premier International Concentrated Solar Thermal Power event that promises to set the industry strategy to CSP diversification in 2012.
There is no doubt that diversifying and penetrating new markets is now vital to further the profitability of the CSP industry. And despite the limited expansion in Spain in the short-term, opportunities for the CSP community continue to flourish around the globe with several emerging markets like South Africa, Morocco and Mexico, that launched their first CSP power plants last year. Additionally, CSP and biomass hybrids are already powering towards competitiveness offering the lucrative opportunity of maximizing the output while drastically reducing the costs of deployment.

For that reason, CSP Today Sevilla 2012 (13-14 November) has a special focus on industry diversification, new technologies and lucrative new markets, with an agenda geared towards addressing the challenges of market competitiveness and industry sustainability.
Headlining the conference will be a series of detailed case studies, interactive panel sessions and extended industry discussions providing delegates with a strategy to achieve competitiveness and sustainability through expansion; with insight and expertise from top executives from the entire CSP value chain, members from the financial community, government bodies and for the first time, international delegations representing the emerging markets with the upmost potential to invest in CSP including the government and local private companies from South Africa, Chile, India, Morocco and Namibia.
Furthermore, CSP giants like SENER continue to partner with the summit, widely known as the premier International Concentrated Solar Thermal Power meeting place in Europe. SENER is a private engineering and technology group backed by more than 50 years' experience, which seeks to offer its clients the most advanced technological solutions. SENER is currently positioned as an international leader engaged in the specific activities of Engineering and Construction, and also has industrial holdings in companies involved in Aeronautics, Energy and Environment, among other sectors.
The Engineering and Construction Division, SENER Ingeniería y Sistemas, S.A., has at present more than 2,500 professionals and 13 offices located in Algiers, Argentina, the United Arab Emirates, Japan, Mexico, Poland, Portugal and Spain, offering its customers solutions and products that are technologically efficient and innovative.
More information about this company and the complete list of speakers, sponsors and exhibitors at the event, can be found in the conference brochure which is complimentary and available to download at: [csptoday.com/csp/conference-event-brochure.php]
Featured Product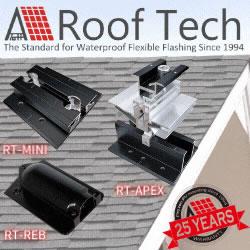 Now Roof Tech brings you the most innovative, watertight mounting systems ever developed for solar photovoltaic systems. Designed and manufactured exclusively for us by Japan's longtime leader in roofing technologies, Roof Tech products are 100% code-compliant and offer fast, simple installation and huge savings on shipping costs due to their compact, rail-less design. Learn more about our full line of versatile PV mounting solutions now available for residential installations. The next generation in rooftop solar mounting solutions."