CBD Energy Launches Solar, Energy Efficiency and Storage Technologies, as well as EPC Project Development and Energy Services, at Solar Power International Conference.
Campbell, CA and Sydney, Australia – September 11, 2012 – CBD Energy Ltd. (ASX:CBD), a global and diversified renewable energy company, today announced its plans to launch its portfolio of renewable energy businesses in the U.S. market. The company, which recently announced a proposed merger with Westinghouse Solar, Inc. (WEST), will debut its technologies and services during the Solar Power International conference in Orlando, Florida at booth 3501.

"CBD Energy's pending merger with Westinghouse Solar offers an ideal platform for the expansion of our renewable energy business into the world's largest market," said Gerry McGowan, Managing Director and CEO of CBD Energy Ltd. "In addition to building upon Westinghouse Solar's business in the U.S., CBD Energy plans for U.S. operations built around its core strengths in design, engineering, procurement and construction (EPC) of commercial solar projects; energy efficiency and storage technologies; and energy services."
"CBD Energy's merger with Westinghouse Solar and the launch of our renewable energy divisions in the U.S. aligns with our strategy to create a more highly diversified business and to accelerate our access to growth opportunities in renewable energy," continued McGowan.
A key focus of the company will be in assisting customers with EPC and financing of solar projects in the U.S., an area in which CBD Energy has significant expertise and sees abundant opportunity in the U.S. market. With energy deregulation, CBD Energy also sees the U.S. market as primed for growth in the area of energy services, where it plans to offer utilities and service providers a solar option to add to their service portfolios. CBD Energy also has a range of energy efficiency, capacitor, storage and remote area storage technologies that address various energy management challenges – an area often noted as "the missing link" in renewable technology.
"CBD Energy sees tremendous opportunity in the solar market in the U.S., particularly with their EPC expertise combined with Westinghouse Solar's success in driving down installed system cost by innovating the design and ease of installation of solar panels," said Margaret Randazzo, Chief Executive Officer of Westinghouse Solar, Inc. "Expanding the CBD Energy portfolio into the U.S. diversifies our combined business, providing incremental earnings and enabling our continued innovation and expansion."
Since announcing the merger, CBD Energy and Westinghouse Solar have already demonstrated significant synergies and collaboration, including partnering on an EPC contract to build a 1.4 MW solar project in New Jersey; a joint venture to build 30 MW of EPC commercial projects in Italy; and a joint agreement to begin distributing 5 MW of Westinghouse Solar Instant Connect™ Solar Power Systems to Harvey Norman's Commercial Division, Australia's largest electrical and home improvement retailer.
The companies will be jointly attending and presenting at Solar Power International (Booth # 3501) from September 10 – 13 in Orlando, Florida. Representatives will be on hand to discuss residential, commercial, and utility scale technologies and projects. Interested parties are encouraged to visit the CBD Energy and Westinghouse Solar booth or contact company representatives to set up a meeting.
Featured Product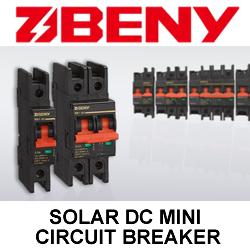 The BB1-63 modular miniature circuit-breakers can be used in solar DC circuits up to 1200 VDC (4-poles execution). Application in solar DC circuits, battery energy storage systems and UPS. Arc flash barrier design keeps solar equipment more safe and reliable. For DC circuit over-current protection.