BROOKLYN, NY – OwnEnergy, Inc. a leading developer of mid-sized and community wind projects, announced today that NJR Clean Energy Ventures (CEV), a subsidiary of New Jersey Resources (NYSE:NJR), has joined its ranks of investors. CEV's minority ownership provides access to its balance sheet and tax capability and reinforces wind energy's future and the strength of OwnEnergy's innovative model. A CEV representative will join OwnEnergy's board, which consists of board members representing investors that include EnerTech Capital Partners and Calpers Clean Energy & Technology Fund.

"Today, we officially enter the wind energy market, which will further diversify our investments in the renewable energy marketplace," said Laurence M. Downes, chairman and CEO of New Jersey Resources. "With our investment in OwnEnergy, we expect to maintain CEV's contribution of 15 to 25 percent of our consolidated earnings. We believe this ownership stake represents a sound investment for our company and look forward to developing new wind projects through this partnership to make clean energy, and its benefits, more accessible."
Launched in 2007, OwnEnergy is a pioneer in the fast-growing mid-sized and community wind energy sector. The company's innovative business model enables its team of industry-leading professionals to provide a broad range of services to energy entrepreneurs interested in co-developing their own wind farms, rather than leasing their land to traditional developers. OwnEnergy partners with landowners, farmers, and local businesses to develop projects in the range of 10 to 80 megawatts (MW). Its "wind farm in a box" approach uses a combination of technology and standardized processes that enable OwnEnergy to develop mid-sized and community wind projects efficiently and cost effectively. The company provides everything necessary for a successful project, from development and contracting to operations and maintenance.
"This establishes NJR Clean Energy Ventures and OwnEnergy as a formidable team in the next phase of America's energy future," said Jacob Susman, founder and CEO of OwnEnergy. "It connects the balance sheet and tax capacity of one of the most reputable energy companies on the East Coast to our proprietary technology and network of local energy entrepreneurs. Together, we're going to work to create cost-effective opportunities in wind generation."
From a strategic perspective, the established industry and development expertise of OwnEnergy will serve as an asset to CEV in developing effective, first-hand knowledge of the wind energy business. Making the deal more valuable, it also provides the option, but not the obligation, for CEV to purchase shovel-ready projects. These "community size" projects fit the size profile for CEV investments. OwnEnergy has developed and sold three projects, totaling 141 MW of power and has a pipeline of more than 1,300 MW in various stages of development. With today's announcement, the company seeks to expand its pipeline of mid-sized projects.
Abundant, affordable and environmentally friendly, wind energy is an important part of the nation's quest for energy independence. According to the American Wind Energy Association, the United States had more than 50,000 MW of wind capacity installed at the end of June 2012, enough to power 13 million homes, or the equivalent of 44 typical coal plants or 11 nuclear plants, with virtually no pollution or water use.
Wind is also one of the most cost-effective sources of new electricity generation, helping to stabilize electric rates with fixed-price contracts. It has accounted for 35 percent of new U.S. electric capacity since 2007, and is one of the fastest-growing sources of new U.S. manufacturing jobs. Today, over 470 American factories build nearly 70 percent of our wind turbines, towers, blades, and other components in the United States, employing 30,000 people in manufacturing. And, wind energy enjoys overwhelming support from the public. A recent Public Opinion Strategies poll found that nearly nine out of ten voters believe increasing the amount of energy the nation gets from wind is a good idea.
As a part of its renewable energy strategy, CEV invests in, owns and operates renewable energy projects that generate clean power and provide low carbon energy solutions. These solutions benefit its customers, while providing growth opportunities for shareholders. To date, CEV's approach has focused on commercial and residential solar project development. The investment in OwnEnergy marks the planned diversification of CEV's renewable energy portfolio.
"We created NJR Clean Energy Ventures to capitalize on emerging opportunities in the renewable energy field," Downes said. "Through our strategic investment and development of more than 35 megawatts of commercial and residential solar projects in New Jersey, CEV has established itself as a leader in the clean energy marketplace."
About New Jersey Resources
New Jersey Resources, a Fortune 1000 company, provides safe and reliable natural gas and renewable energy services, including transportation, distribution and asset management in states from the Gulf Coast to the New England regions, including the Mid-Continent region, the West Coast and Canada, while investing in and maintaining an extensive infrastructure to support future growth. With $3 billion in annual revenues, NJR safely and reliably operates and maintains 6,800 miles of natural gas transportation and distribution to serve half a million customers; develops and manages a diverse portfolio of 1.5 Bcf/day of firm transportation and over 62.1 Bcf of firm storage capacity; offers low-carbon, clean energy solutions through its commercial and residential renewable energy programs and provides appliance installation, repair and contract service to nearly 135,000 homes and businesses. Additionally, NJR holds investments in midstream assets through equity partnerships including Steckman Ridge and Iroquois. Through Conserve to Preserve®, NJR is helping customers save energy and money by promoting conservation and encouraging efficiency. For more information about NJR, visit www.njresources.com
, "Like" us at facebook.com/NewJerseyNaturalGas or follow us on Twitter @NJNaturalGas.

About OwnEnergy

OwnEnergy is the leading developer of mid-sized and community wind projects, enabling landowners and communities to build and profit directly from their own local wind farms. The Company works in partnership with its nationwide network of energy entrepreneurs to develop the approximately 30 community-scale wind farms in its pipeline. OwnEnergy has a breakthrough business model for the profitable and capital-efficient development of these mid-size wind farms that involves community ownership and proprietary development systems. The company is based in Brooklyn, New York and is active in thirteen U.S. states. For more information about OwnEnergy visit www.ownenergy.net .

Forward-Looking Statements
This news release contains forward-looking statements within the meaning of the Private Securities Litigation Reform Act of 1995. NJR cautions readers that the assumptions forming the basis for forward-looking statements include many factors that are beyond NJR's ability to control or estimate precisely, such as estimates of future market conditions and the behavior of other market participants. Certain statements contained in this presentation are forward-looking statements within the meaning of the Private Securities Litigation Reform Act of 1995. "Words such as "anticipates," "estimates," "expects," "projects," "intends," "plans," "believes," "may," "should," "will" and similar expressions may identify forward-looking information and such forward-looking statements are made based upon management's current expectations and beliefs as of this date concerning future developments and their potential effect upon NJR. There can be no assurance that future developments will be in accordance with management's expectations or that the effect of future developments on NJR will be those anticipated by management. Forward-looking information in this release includes, but is not limited to, certain statements regarding NJR's expectations for CEV's investment in OwnEnergy, NJR's overall renewable energy strategy and the expected annual contribution of CEV to NJR's earnings.




Featured Product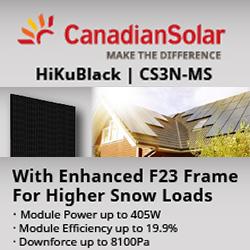 Aesthetic appearance for residential systems: With black backsheet & black frame, Power range 380 ~ 405 W, Low power loss in cell connection. Enhanced reliability: · Low temperature coefficient (Pmax): -0.34 % / °C, LID LeTID less than 2.0%, Lower hot spot temperature, Better shading tolerance.