Proprietary software provides complete management of a PV business, integrates all activities into single source for solar project management from sales to completion
HONOLULU – www.RevoluSun.com – RevoluSun Solar Corp. this week is showcasing the power of its proprietary RiSE™ software suite at the Solar Power International (SPI) conference September 10 through 13 at the Orange County Convention Center in Orlando, Florida. RevoluSun's flagship operation in the State of Hawaii is Hawaii's leading provider of residential and commercial solar systems in Hawaii, and one of the nation's top solar firms, with a reputation for quality and innovation.

"The RiSE™ platform is a web application capable of complete management of a photovoltaic integrator's business from sales to operations and construction," said RevoluSun President Todd Georgopapadakos. "Every piece of information is integrated into one system for complete visibility and optimum efficiency. RevoluSun developed and fine-tuned this hard-working application over the past three years, so now it offers users an amazingly effective tool to sell, manage and complete a solar project whether it be a small residential system to a complex, multi-faceted commercial project."
Through the RiSE™ platform clients can compare and contrast various solar technology side-by-side, to determine what products are best for their roof and their energy needs. The RiSE™ software suite also acts as the source to manage the project, collecting and storing all the client's project information in one portal. This allows for the entire solar team to easily access project data, and keep tabs from the initial quote through design and permitting. Combined with the project developer's expertise, this technology offers clarity and efficiency so clients truly understand the timeline, cost and products.
Specifically, the RiSE™ platform provides a myriad of benefits including:
o Web application with robust three-tier architecture with Google Web Toolkit at the frontend.
o Sales module that allows sales force to operate autonomously generating proposals and contracts on site.
o Operations module allowing tracking of projects through all phases of construction process.
o Design module facilitating communication and document management through design process.
o Integration with accounting, procurement, inventory management, email and other key systems.
o Scalable platform allowing for customization of almost every aspect of workflow.
o Document management system allowing project documents to be connected to individual projects.
o Customer Satisfaction module to track service issues, complaints and problems.
o Marketing module to track campaign efficacy via lead gen and closing ratios from various marketing programs.
"More than $100 million in project value has been managed through RiSE™ in an iterative process of steady improvement and refinement via agile development process," Georgopapadakos said. "When others see the clear benefit of the RiSE™ platform, it is one more reason to join the RevoluSun network."
About RevoluSun Solar Corporation
Hawaii-owned RevoluSun Solar Corp. is a national solar company, requiring the highest quality of service, technology and design in renewable energy. With its extensive network of renewable energy partners RevoluSun Solar Corp. makes entering the renewable energy business an affordable, attractive proposition for sales-oriented entrepreneurs and existing solar companies looking for new ways to compete in their increasingly competitive local markets. RevoluSun also is leading the way in solar franchising by exporting its highly successful business model to cities nationwide allowing more people to join the solar movement. RevoluSun Network companies provide their residential and commercial customers free, understandable energy evaluations, and can instantly generate accurate customized quotes based on a site's energy usage, solar insolation, and structural characteristics using its proprietary RiSE™ software platform.
For more information about RevoluSun visit www.RevoluSun.com
Featured Product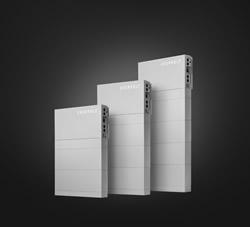 Renewable energy stored in an EVERVOLT home battery system is the perfect backup plan against an uncertain utility grid and weather events. Run key appliances longer and live life when the unexpected happens. EVERVOLT battery storage systems are covered by a complete 12-year warranty from Panasonic.