Michael Mittleman is new Senior Vice President of Operations and Wayne Williford is O&M Manager
Rohnert Park, CA— Stellar Energy, a large-scale solar energy integrator is pleased to announce the addition of two solar industry veterans to its operations team: Michael Mittleman as Senior Vice President of Operations, and Wayne Williford as Operations and Maintenance Manager.

Mr. Mittleman is a solar industry veteran, who brings Stellar Energy over three decades of experience in commercial construction, with an extensive background in design/build projects for some of the largest food processing, cold storage, and distribution facilities in the nation. Prior to joining Stellar Energy, Mr. Mittleman managed the construction of over $150 million of solar projects for commercial, municipal, and industrial clients around the country. Mr. Mittleman will oversee all engineering, procurement, and construction operations including purchasing, estimating, design, and project management.
Mr. Williford is also a solar industry veteran with extensive experience in the areas of solar power plant performance and system monitoring. Previously, he managed a portfolio of over 70 Megawatts of client's solar assets. In his new role as Stellar Energy's Operations and Maintenance Manager, Mr. Williford is responsible for all client solar system performance, monitoring, and component maintenance.
"As the industry matures, investors in solar projects are demanding the lowest possible costs for development and greater accountability, including energy output guarantees," stated Tosh Fujioka, Chief Executive Officer at Stellar Energy. "Adding Mr. Mittleman and Mr. Williford to our team increases our ability to compete and underscores our leadership position in large commercial and municipal solar project construction and operation."
"Michael Mittleman's demonstrated leadership in large-scale solar project management makes him the ideal partner to help lead Stellar Energy's growth," said Matt Lugar, Senior Vice President of Sales and Marketing at Stellar Energy. "Both Mr. Mittleman and Mr. Williford bring deep experience to help increase our efficiency through the entire life cycle of a solar project, and ultimately, more competitive pricing for our clients and financial partners."
About Stellar Energy
Stellar Energy is a large-scale solar energy integrator with complete project development, design, engineering, procurement, and construction (EPC) management capabilities. With installations spanning government, education, commercial, and municipal customers, Stellar Energy's portfolio of projects makes the company one of the top solar EPC firms in the nation. Stellar Energy is a subsidiary of ITOCHU International, Inc., a global trading company.
Featured Product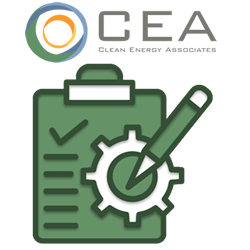 Clean Energy Associates provides a complete quality assurance solution that covers the entire product lifecycle of PV modules, storage systems, and every Balance of Sy stem (BOS) component. CEA's experienced on-the-ground and international team of quality control engineers and account managers offer an unparalleled quality assurance presence that can protect solar and storage investments and ensure future energy-producing viability for the life of the product.