New financing solutions enable SunWize customers to expand their business by providing competitive residential leases to more consumers
SAN JOSE, CA (September 10, 2012)—SunWize Technologies, Inc., a global Engineering, Procurement, and Construction company, a premier Distributor of sustainable energy products, and a Developer of engineered solutions for mission-critical projects, has announced a partnership with Clean Power Finance, the online marketplace for residential solar financing and leading provider of solar sales software. As a result of this partnership, SunWize's national network of solar installation professionals will have access to a number of competitive financing tools, allowing them to serve a much larger group of customers.

"SunWize has been committed to making the world a better place through the use of sustainable energy for over twenty years," said David Kaltsas, President and Chief Operating Officer of SunWize Technologies. "Our new partnership with Clean Power Finance is another way for us to demonstrate that commitment. It opens the door for many residential customers who may previously have been unable to finance a solar installation."
Solar finance products such as leases and power purchase agreements (PPAs) are crucial tools for solar professionals who want to expand their business. Clean Power Finance's financing solutions offer solar professionals and distributors a variety of solar leases and PPAs, driving competitive prices and allowing installers to tailor options to homeowner preferences.
"Clean Power Finance is committed to expanding the residential solar market by making affordable solar leases and PPAs available to qualified solar professionals," said Robert Prigge, Chief Commercial Officer at Clean Power Finance. "We are very excited about our partnership with a top tier distributor such as SunWize, whose national dealer network will help us bring finance products to more solar professionals across the US."
As a subsidiary of Mitsui & Co. (USA), SunWize operates the largest solar electric distribution center in the US. Having pioneered the solar industry back in the early 1990s, the company now designs, develops and builds large-scale, turnkey sustainable energy projects. Drawing on years of experience in a variety of industries and environments, SunWize and its established network of dealers and contractors have an excellent track record of delivering results that consistently exceed customer expectations.
"Economic and environmental trends continue to point to a tremendous increase in the need for sustainable energy," Kaltsas added. "Residential solar financing represents a big growth opportunity—not just for SunWize, but for its dealers and professional installers. We made the decision to partner with Clean Power Finance because they are one of the best and most experienced financing providers in the industry. I have no doubt that this partnership will help both organizations reach new levels of success in the months and years ahead."
SunWize dealers in six states--Arizona, California, Colorado, Hawaii, Massachusetts and New Jersey—will have initial access to Clean Power Finance's products, with plans to add additional states in the future. For more information about SunWize, its dealers, installers and products, visit www.sunwize.com or call 1-800-81-SOLAR.
ABOUT SUNWIZE TECHNOLOGIES, INC:
Delivering sustainable energy solutions to leading public and private organizations for over twenty years, SunWize is a global Engineering, Procurement, and Construction company, a premier Distributor of sustainable energy products, and a Developer of engineered solutions for mission-critical projects. By leveraging Mitsui's $66B global network both upstream and downstream, SunWize provides businesses, government agencies and dealers with the resources they need to execute sustainable energy projects on time and within budget.
ABOUT CLEAN POWER FINANCE:
Clean Power Finance is driving the mass-market adoption of residential solar by building an online marketplace to connect the solar industry and the capital markets. The company provides solar professionals, manufacturers and distributors with access to a variety of white label residential finance products and easy-to-use solar sales quoting and design tools. For investors and lenders, the company makes it easy to invest in residential solar projects that provide reliable rates of return. Founded in 2007, Clean Power Finance is funded by Kleiner Perkins Caulfield & Byers (KPCB), Google Ventures and Claremont Creek Ventures. To learn more about how Clean Power Finance can accelerate the growth of your business, please visit www.cleanpowerfinance.com.
Featured Product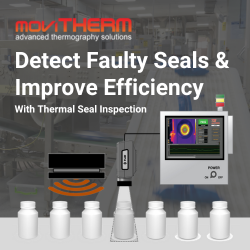 MoviTHERM's Thermal Seal Inspection (TSI) solution provides precise and reliable detection of defects in a variety of packaging types, including pouches, bags, blister packs, bottle caps, and more. By detecting defects in your packages, the TSI solution helps increase efficiency in your production line and ensures top-quality packaging is delivered to your customers every time. With state-of-the-art technology and an experienced team, MoviTHERM is dedicated to delivering accurate inspection solutions and peace of mind to its clients. Contact MoviTHERM today to learn more about their thermal seal inspection solution.