'Frequent-Flyer' Program Rewards Partner Installers for Ongoing Partnerships.
Orlando, FL, September 11, 2012 -- Trina Solar Limited (NYSE:TSL) ("Trina Solar" or "the Company"), a leading integrated manufacturer of solar photovoltaic (PV) products from ingots to modules, today announced the U.S. launch of Trina Solar Partner Plus, a partner program that provides tools to help solar installers grow their business.

"Our Trina Solar Partner Plus program puts the strength and resources of a global manufacturer squarely behind our partner distributors and installers so that they can both capture more business," said Mark Mendenhall, President of Trina Solar Americas. "This program offers a range of sales and marketing tools and adds to our ongoing commitment to helping our partners succeed. Together, we can help more homeowners and more small businesses go solar across the nation."
Program partners can register for the free program at www.trinasolarpartnerplus.com and collect points by purchasing products through one of Trina Solar's distributors. These points can then be redeemed for sales and marketing tools, which were selected based on extensive research on installer needs. The tools include exclusive product offers, personalized sales, marketing support, technical services, and specialized trainings that help installers grow their solar businesses.
Backed by Trina Solar's strong balance sheet, Trina Solar's Partner Plus program continues the Company's track record of product leadership, industry firsts, and strategic investment into the long-term growth of the solar industry and its partners. Earlier this year, the Company unveiled new, cutting-edge products including Trinasmart and Trinamount that speed the installation process, as well as Design Services that deliver preliminary system layouts. The combination of diverse product offerings and services highlights Trina Solar's expanding commitment to providing a full range of solar solutions to its partners throughout the value chain.
Trina Solar recently received recognition by two organizations for its sustainable practices and field performance. The Silicon Valley Toxics Coalition, in its annual global review of sustainable manufacturing practices, ranked the Company first among solar panel manufacturers throughout the world. Additionally, Trina Solar's panels placed first on the California Energy Commission's PTC/STC ratio that estimates real-world panel performance.
U.S. parties interested in learning more about the Trina Solar Partner Plus program should contact partnerplus@trinasolar.com or visit www.trinasolarpartnerplus.com.
###
About Trina Solar Limited
Trina Solar Limited (NYSE: TSL) is a leading manufacturer of high quality modules and has a long history as a solar PV pioneer since it was founded in 1997 as a system installation company. Trina Solar is one of the few PV manufacturers that have developed a vertically integrated business model from the production of monocrystalline and multicrystalline silicon ingots, wafers and cells to the assembly of high quality modules. Trina Solar's products provide reliable and environmentally-friendly electric power for a growing variety of end-user applications worldwide. For further information, please visit Trina Solar's website athttp://www.trinasolar.com.
Safe Harbor Statement
This announcement contains forward-looking statements within the meaning of the safe harbor provisions of the Private Securities Litigation Reform Act of 1995. All statements other than statements of historical fact in this announcement are forward-looking statements, including but not limited to, the Company's ability to raise additional capital to finance the Company's activities; the effectiveness, profitability and marketability of its products; the future trading of the securities of the Company; the Company's ability to operate as a public company; the period of time for which the Company's current liquidity will enable the Company to fund its operations; general economic and business conditions; demand in various markets for solar products; the volatility of the Company's operating results and financial condition; the Company's ability to attract or retain qualified senior management personnel and research and development staff; and other risks detailed in the Company's filings with the Securities and Exchange Commission. These forward-looking statements involve known and unknown risks and uncertainties and are based on current expectations, assumptions, estimates and projections about the Company and the industry in which the Company operates. The Company undertakes no obligation to update forward-looking statements to reflect subsequent occurring events or circumstances, or changes in its expectations, except as may be required by law. Although the Company believes that the expectations expressed in these forward looking statements are reasonable, it cannot assure you that such expectations will turn out to be correct, and the Company cautions investors that actual results may differ materially from the anticipated results.
For further information, please contact:
Jose Tengco
(415) 292-4314
jtengco@tigercomm.us
Featured Product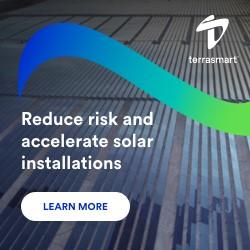 We push the limits in renewable energy, focusing on innovation to drive progress. Pioneering new solutions and ground-breaking technology, and smarter ways of working to make progress for our clients and the industry.