The new offerings include a watering system and an Industrial Owner's Package, which features a hydrometer, battery maintenance log and user's guide.
Santa Fe Springs, Calif., Sept. 12, 2012 – Trojan Battery Co., the world's leading manufacturer of deep-cycle batteries, today announced the availability of several maintenance tools designed to assist customers in achieving maximum performance and life from their Industrial line batteries. The new offerings include a watering system and an Industrial Owner's Package, which features a hydrometer, battery maintenance log and user's guide.

"Proper maintenance practices and regular battery watering are important factors in maximizing the performance and life of Trojan's deep-cycle, flooded Industrial batteries," said Bryan Godber, Trojan's executive vice president of renewable energy. "By offering these various maintenance tools, Trojan is making it as easy as possible for our customers to commit to a regular maintenance and watering schedule to maximize the life of their investment."
Industrial Watering Kit
Trojan's watering system for the Industrial line makes watering Industrial batteries a simple, clean process. With Trojan's advanced, single-point watering system, precise battery watering is made easy saving valuable time and money as well as taking the guess work out of properly watering flooded batteries.
Industrial Owner's Package
Trojan's Industrial Owner's Package is designed to assist customers with proper battery installation and maintenance. The package includes a hydrometer, battery maintenance log and Industrial battery user's guide. The Industrial Owner's Package can be purchased through any Trojan Battery renewable energy customer of distributor, and is designed for Trojan's Industrial line of deep-cycle, flooded batteries.
Hydrometer – Trojan's battery hydrometer is a special Freas Glass Works hydrometer which features a float with a specific gravity scale range of 1.150 to 1.350 graduated in 0.005 degree division for 7/77 f. The hydrometer is used to check the specific gravity of the battery electrolyte solution in a flooded battery to estimate the battery's state of charge. Specific gravity is a measure of the density of sulfuric acid solution used as electrolyte in a battery, which changes as a battery is charged and discharged. A high specific gravity means a higher density of acid to water, which normally indicates a higher state of charge. Specific gravity is measured when the battery is not under a load and should not be measured soon after water is added to the battery.
Battery Maintenance Log – Trojan's battery maintenance log is used to record important information about the Industrial batteries including specific gravity, cell voltage, date and time of services, and overall state of the batteries. Trojan requires the battery maintenance log be kept updated on a regular basis to validate the warranty. Keeping track of battery maintenance information helps customers care for their batteries. It also helps both the installer and Trojan understand the battery's maintenance history in case troubleshooting is necessary. Overall, this process contributes to better battery performance and longer battery life.
Industrial Battery User's Guide – The Industrial Battery User's Guide was developed by Trojan's application engineers and contains vital information regarding proper care and maintenance of Trojan's Industrial batteries. The guide includes information about safety, installation, and other valuable topics to help customers successfully install, operate and maintain their deep-cycle flooded Industrial batteries.
Trojan's deep-cycle batteries for renewable energy applications are available worldwide. To order please visit: www.trojanbatteryRE.com/order.
About Trojan Battery Company
Trojan Battery Company is the world's leading manufacturer of deep-cycle batteries, offering a complete portfolio of technologically-advanced deep-cycle flooded, AGM and gel batteries that provide maximum long-lasting performance to meet the requirements of today's advancing renewable energy systems. Trojan Battery Company, founded in 1925, is ISO 9001:2008 certified with U.S.-based operations in California and Georgia. For more information, visit www.trojanbatteryRE.com
Featured Product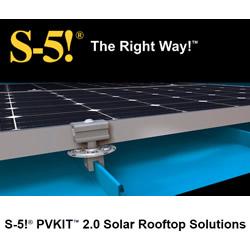 The concept of combining PV arrays with standing seam metal roofing is growing-for good reasons. Metal roofs have a life expectancy of more than 40 years. Shouldn't the mounting system last as long? With S-5! zero-penetration attachment technology and PVKIT 2.0, the solarized metal roof is the most sustainable system available -and without compromising roof warranties! PVKIT 2.0 is the also the best solution for attaching PV modules directly to any exposed fastener metal roof.