Clean Energy Expo Asia returns for its fourth edition this year, with a stronger focus on renewable energy innovations and project development.
Singapore /12 September 2012

The Pew Charitable Trusts revealed earlier this year that the clean energy market in Asia/Oceania saw US$75 billion in investments1. Asia Pacific has a huge and growing demand for energy, and governments across the region are stepping up efforts to grow their renewable energy sources to reduce reliance on depleting fossil fuel sources.
To drive the momentum in clean energy adoption and policy implementation, Clean Energy Expo Asia returns for its fourth edition this year, with a stronger focus on renewable energy innovations and project development.
Set for the first time in Centara Grand & Bangkok Convention Centre at Central World, Bangkok, Thailand, industry leaders and global energy experts will share their expertise and insights on the latest developments in clean energy markets around the region and beyond. The event was officially opened by Natie Tabmanie, Deputy Director-General, Energy Policy and Planning Office, Ministry of Energy, Thailand.
Building blocks for the future of clean energy
In his opening keynote, S. Chander, Director General, Regional and Sustainable Development Department, Asian Development Bank (ADB), will address two important issues related to economic growth and development in the region – energy security and climate change. He will discuss how to build a low carbon future in Asia and the Pacific by bridging the gaps in financing, energy regulation, tariff design and integration of renewable energy.
"ADB believes in a clean energy future for Asia and the Pacific. Clean energy technologies can help pave the road to low carbon development. It enables developing Asia to decouple its economic growth from increased greenhouse gas emissions," S. Chander, Director General, Regional and Sustainable Development Department, ADB.
Chander will be joined by Gwen Andrews, Vice President, Environmental Policies & Global Advocacy, Alstom, Daniel Gaefke, Managing Director, Annex Power Ltd and Dr. Chris Hartshorn, Vice President, Lux Research, in the opening plenary session, Shaping a Game Changing Business: The Future of Clean Energy in Asia. The session will address high-level issues affecting the future of clean energy adoption and innovation, as well as the challenges that Asia faces in developing a viable strategy to realize its sustainable energy vision.
Over the next three days, close to 100 thought leaders and game changers in renewable energy, energy efficiency and sustainable mobility will share insights with key innovators, entrepreneurs and investors on the latest developments and issues in these sectors. Through 25 expert sessions, visitors will benefit from the dialogs on solar, wind, hydro energy, smart grids, bio-energy, sustainable mobility, energy efficiency, project financing and policy developments.
Smart grid and the integration of renewables remains a highlight as Asia devises a strategy for sustainable energy distribution. Key speakers for this session include Dr. Eng. Bartosz Wojszczyk, Managing Director, Global Growth & Strategy, GE Energy, who will provide insights into the evolution of the smart grid energy landscape; and Sridhar B. Samudrala, Director for Asia, WADE, who will be speaking about Asia's experience in smart grid models and possible solutions for clean energy.
Project financing will also be a key topic at Clean Energy Expo Asia with Sessions such as Solid, Sustainable Growth of Renewable Energy Projects: Leveraging Strength through Expansion and Greenfield Projects by Edward McCartin, Senior Development Advisor, Alterra Corporation and Scaling Up of Financing Energy Efficiency Projects in Asian Industrial Facilities by Thomas K. Dreessen, Chairman and CEO, Energy Efficiency Project Investment Company Limited (EEPIC).
With concerns over the growing car population in Asia and its impact on greenhouse gas emissions, sessions on sustainable mobility will further delve into actionable insights for cities to develop and integrate sustainable mobility into their infrastructure. Thought leaders represented in these sessions include Chuang Chih-Chao, Research Specialist, Massachusetts Institute of Technology's Media Lab and Nick Leach, Director Vehicle Sales Support Asia, Scania CV AB.
Expanding business exchange and clean energy discussions
Clean Energy Expo Asia continues with its successful Business Matching program this year. Regional buyers such as Bangkok Solar (Thailand), Du Pont Apollo Limited (Hong Kong), Kyi Thant Trading & Mining Co Ltd (Myanmar), Moser Baer Project (India) and Solarus Partners Inc (Philippines) will be on-site to meet with potential business partners. In addition, industry delegations from countries, such as Hong Kong, Indonesia, Malaysia, Myanmar and Singapore, will also engage in meetings to discuss the advancement of clean energy in the region. Visitors and delegates who are looking to embark on new clean energy and energy efficiency projects in Thailand can also book a meeting slot with over 20 local renewable energy experts in the inaugural Renewable Clinic.
Showcase of Asia's leading clean energy companies and solutions
The Clean Energy Expo Asia Trade Fair 2012 continues to showcase the latest developments in clean energy solutions, featuring close to 100 exhibitors from 16 countries. Exhibitors include country pavilions and companies from countries such as China, Hong Kong, the Philippines, Singapore and Thailand.
Notable exhibitors at the Trade Fair include:
• Annex Power: A leading renewable energy group covering the Asia Pacific region, Annex Power's expertise lies in helping homes, businesses and utilities generate clean energy to become energy efficient. Annex Power is also a major distributor of high-quality system components including solar PV modules, batteries, inverters, charge controllers and small wind turbines.
• Asia Biomass Co. Ltd: Based in Thailand, the nation's biggest biomass energy company will showcase its key renewable energy solutions and how it produces alternative energy from materials such as wood chips, sawdust, paddy husks, palm kernel shells, rubber and rice, among others.
• BMH Technology Oy: The Finnish company will introduce its Tyrannosaurus®SRF (Solid Recovered Fuel), a production plant and solid fuel handling system for power plants and cement kilns. The technology turns waste into high quality Solid Recovered Fuel (SRF) for clean and sustainable energy production.
• Green Mobility Innovations Ltd (GMI): The Hong Kong-based technology company that focuses on designing, developing, manufacturing and trading electric and hybrid electric vehicles, will be showcasing its technology for electric buses, scooters and vans. The Company is seeking opportunities to expand its business across the region.
• SMA (Solar) Thailand: A global leader in the development, production and sales of PV inverters, SMA (Solar) Thailand will introduce its newest range of solar-powered solutions, the Sunny Boy 5000 and the Sunny Central 900CP XT, capable of powering homes, enterprises and power plants.
Clean Energy Expo Asia 2012 will also include inaugural technical site visits to witness existing clean energy projects at Lopburi 4: Bangkok Solar Power Plant and Dan-Chang Bio-Energy Power Plant.
"Investments in clean energy have been growing steadily in the region over the years. As Asia's energy demand persists, there is an urgent need for the industry to take active steps to accelerate the progress of clean energy innovation to ensure its place as a viable alternative energy source. At the same time, governments need to look into sustainable policies that will integrate renewable energy into its infrastructure," said Mr. Michael Dreyer, Vice President, Asia Pacific, Koelnmesse.
"Clean Energy Expo Asia, with its mix of business leaders, financiers and policymakers, continues to provide a strong platform for industry updates and knowledge exchange to enhance sustainable energy adoption in the region. We are certain that participants this year will go home with renewed insights and confidence to take their sustainable vision forward." Dreyer concluded.
For more information on Clean Energy Expo Asia, please visit www.cleanenergyexpoasia.com.
Featured Product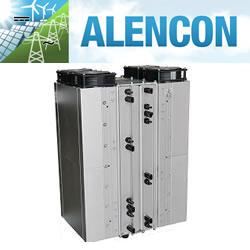 Alencon Systems is the premier manufacturer of high power, high voltage DC:DC optimizers for alternative energy applications including solar, battery energy storage, Microgrids, Fuel Cells and Electric Vehicle charging. Alencon's DC:DC converter offerings include the SPOT, BOSS and CUBE series DC:DC converters. The SPOT is a modular, uni-directional DC:DC solution ideal for solar applications. The BOSS is a modular, bi-directional unit for use with battery energy storage. The CUBE is a monolithic DC:DC converter which is available in both uni-directional and bi-directional modalities. Pictured above, is the Alencon SPOT.