European offshore wind is growing exponentially, but health and safety must always be the number one priority above energy production.This explains the 534% growth for Wind Energy Update's second annual Offshore Wind Health and Safety Summit 2012 in Copenhagen on the 5-6th December. With speakers from DONG Energy, RWE Innogy, Mainstream Renewables, Statoil, GE Energy, Siemens… addressing safety culture, training and access options ; the event is already a third on its way to selling out.
LONDON September 13, 2012

The European offshore wind industry is growing exponentially. In the first half of 2012 alone offshore wind power was up 50% on the previous year; 523.2 MW compared to 348.1 MW. EWEA predict that 2012 will be the best ever year for the industry. Along with this installed capacity, 13 offshore wind farms were in construction in the first half of this year.
This is great news for everyone in the industry, but the health and safety of those involved must be secured. With an increase in the construction and installation of wind farms, there will be an increase in those working offshore. When accessing the offshore wind turbines, being as safe and time efficient is imperative for all engineers going offsite. Until the decommissioning of the wind farms, which could be 20 years or more, health and safety must be kept at the front of the operator's agenda. It must be put above energy production.
To ensure that all aspects of health and safety are considered by those working in the offshore wind industry, whether safety culture, access or training, Wind Energy Update, has put together their second annual Offshore Wind Health and Safety Summit taking place on the 5-6th December in Copenhagen, Denmark. We have gathered the most experienced health and safety industry professionals to speak and collaborate on the most crucial safety issues affecting offshore wind right now.
The HSE managers from DONG Energy, RWE Innogy, RES Offshore, Mainstream Renewables, Statoil, GE Energy, Gamesa, Siemens… and many more will be presenting on tried and tested solutions you yourself can implement into your operations.
Over two days we will provide you with innovative interactive round table discussions, interactive panel sessions and previously unheard case studies including:
*Health and safety in all aspects of construction, operations and future far shore and deep water projects
*Access options for routine safety and emergency response work
*How to install a family approach to safety culture and management system success stories
*Developments in H&S offshore, regulations and establishing a harmonised approach
The event is currently 534% up on last year and is already a third of a way before selling out. Download the brochure here and register quickly before we sell out! Don't miss out on the most exciting event in the offshore wind health and safety calendar.
Featured Product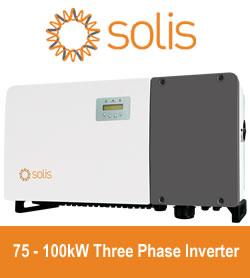 Solis75kW - 100kW series high-power string inverters are widely used in industrial and commercial rooftops. Solis's new three-phase string inverter is the first choice for industrial and commercial photovoltaics. 75-100kW three phase series string inverter have Maximum 28 strings input, support "Y" type connection in DC side. Maximum string input current 13A, support bifacial modules access.Supports anti-PID function to improve system efficiency.