GE Launches the Stylish, Smart and Simple Wattstation Wall Mounted Electric Vehicle Chargers in Europe
MUNICH, GERMANY —September 18, 2012 —GE (NYSE: GE) has launched the wall-mounted version of its WattStation electric vehicle (EV) charger in Europe.

Unveiled at GE's Global Research Centre, located in the Technical University in Munich, Germany, the GE WattStation Wall might look like a work of modern art. But the stylish device makes owning and using electric and plug-in hybrid vehicles an easier and more attractive proposition. There is even an app for it.
The GE WattStation Wall is compatible with all the main types of European EV charging connections and is suitable for use in private and public locations. The compact unit can be easily installed indoors or outdoors, and its robust construction will resist rain, sleet and even ice. A flexible cord conveniently wraps around the unit to keep it organized and off the ground. To prevent unauthorised use, the WattStation Wall charger can be switched on and off from a separate switch.
The energy management capability of the WattStation Wall allows for several chargers to be connected to an existing power supply, enabling the easy installation of multiple charging points in parking lots and fleet depots. It also can be connected to existing energy management systems and is compatible with smart grid technology allowing users to take advantage of cheaper tariffs and to avoid unnecessary vehicle charging over peak demand periods.
The WattStation Wall is an appealing option when charging points are to be located in public areas or alongside distinctive architecture; the sleek design can be customized to match existing decors or to incorporate customers' corporate or favourite colours.
Getting Connected
WattStation Network, a networked version of the charger, which will be available early in 2013, will work with the WattStation Connect online service. It will meet the needs of car park operators, fleet managers and municipalities that require greater control of energy usage or the smart functionality necessary to collect payments and monitor usage.
User identification and online payment options will allow chargers to be made available to all EV drivers or restricted to authorised users only. Fleet managers also will be able to rebill users.
A WattStation smart phone app enables users to manage vehicle charging remotely and to obtain energy use information. The smart technology has been designed to accept future upgrades.
Charles Elazar, marketing director with GE Energy Management's Industrial Solutions business in Europe, Middle East and Africa says: "Customers are now looking at electric vehicles from an economic rather than an environmental perspective. The new wave of hybrid vehicles is creating interest, and we also are seeing a niche develop with organisations purchasing complete 'EV eco-systems,' packages of vehicles and charging infrastructure to meet specific transport needs."
The GE WattStation Wall meets these customers' needs with its combination of smart functionality and "plug-and-play" simplicity.
Along with a range of chargers that includes the GE DuraStation, WattStation Wall and WattStation Connect, GE provides the full range of electrical systems and smart grid technology necessary to develop and manage a complete electric vehicle infrastructure. Through its Capital and Fleet Services businesses, GE also is able to provide the financing, vehicles and fleet management knowhow to support the widespread adoption of EV technology.
GE is a keen supporter of EVs. In 2010, the company announced plans to purchase 25,000 electric vehicles by 2015 for use as company cars and to lease to corporate customers through its Fleet Services business. At the time GE's Chief Executive Officer Jeff Immelt said he hoped the purchase would "move electric vehicles from anticipation to action."
More information about the GE WattStation Wall is available at: www.gepowercontrols.com/ev.
For trade sales enquires contact Joerg Platzer at GE Energy joerg.platzer@ge.com.
Notes
1. The GE WattStation Wall measures 60 cm tall by 40 cm wide and 15 cm deep.
2. The Watt Station Wall is supports type 1 plugs; type 2 plugs, type 2 sockets and type 3 sockets, the most commonly used EV charging connections in Europe, USA and Japan.
3. GE WattStation Wall complies with IEC 62196-1 and IEC 62196-2 standards.
About GE
GE (NYSE: GE) works on things that matter. The best people and the best technologies taking on the toughest challenges. Finding solutions in energy, health and home, transportation and finance. Building, powering, moving and curing the world. Not just imagining. Doing. GE works. For more information, visit the company's website at www.ge.com.
Follow GE's Industrial Solutions business on Twitter @GEindustrial.
Featured Product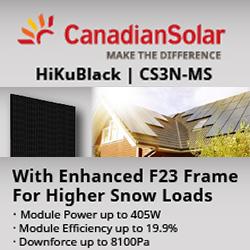 Aesthetic appearance for residential systems: With black backsheet & black frame, Power range 380 ~ 405 W, Low power loss in cell connection. Enhanced reliability: · Low temperature coefficient (Pmax): -0.34 % / °C, LID LeTID less than 2.0%, Lower hot spot temperature, Better shading tolerance.