Higher Cell and Module Efficiencies with Less Material Consumption Offer Near-Term Means for Solar Manufacturers to Improve Profitability
RESEARCH TRIANGLE PARK, N.C., Sept. 20, 2012 – DuPont Microcircuit Materials (MCM) has introduced its next-generation frontside metallization pastes for crystalline silicon solar cells. DuPont™ Solamet® PV18x series photovoltaic metallization pastes offer photovoltaic manufacturers improved productivity beyond that provided by Solamet® PV17x series, the current industry benchmark. Solamet® PV18A, the first product in the series, is tailored for optimal performance on mono-crystalline wafers with enhanced Lightly Doped Emitters (LDEs). PV18A is demonstrating efficiency gains despite significantly less material consumption when compared to Solamet® PV17F, further widening the gap in performance with other competitive products in the market. MCM is concurrently developing diffusion recipes in-house aimed at boosting solar cell efficiencies beyond the 19.3 percent level already demonstrated with Solamet® PV18A.

"Solamet® PV17x series is the leading frontside photovoltaic metallization paste in the market today in large part because it was the first commercial paste that was able to unlock efficiency gains by being able to contact LDEs," said Peter Brenner, global photovoltaic marketing manager, DuPont Microcircuit Materials. "Now Solamet® PV18x expands productivity by offering more with less - more efficiency from even better contact to LDEs together with less material required."
Photovoltaic cell manufacturing is a challenging business where excess supply continually drives down cell and module pricing. Manufacturers are looking at ways to improve productivity by increasing cell and module efficiencies and lifetimes while keeping their costs in line with the rapidly reducing module average selling price.
Solamet® PV18x is the next-generation of the market-leading DuPont™ Solamet® range of frontside silver metallization pastes. PV18A is the first version of a new series, and plans are to continue to expand the series to address the specific needs of various market segments such as achieving even finer lines to support further reductions in the cost of ownership of multi-crystalline cells with high RSheet LDEs.
DuPont Microcircuit Materials has over 40 years of experience in the development, manufacture, sale and support of specialized thick film compositions for a wide variety of electronic applications in the photovoltaic, display, automotive, biomedical, industrial, military and telecommunications markets.
For more information on DuPont Microcircuit Materials, please visit http://mcm.dupont.com.
DuPont™ Solamet® photovoltaic metallizations are part of a broad and growing portfolio of products represented by DuPont Photovoltaic Solutions (DPVS), which connects science and technology from across the company on a global scale to help support the dramatic growth in the photovoltaic industry. To learn more, please visit http://photovoltaics.dupont.com.
DuPont (NYSE: DD) has been bringing world-class science and engineering to the global marketplace in the form of innovative products, materials, and services since 1802. The company believes that by collaborating with customers, governments, NGOs, and thought leaders we can help find solutions to such global challenges as providing enough healthy food for people everywhere, decreasing dependence on fossil fuels, and protecting life and the environment. For additional information about DuPont and its commitment to inclusive innovation, please visit www.dupont.com.
Featured Product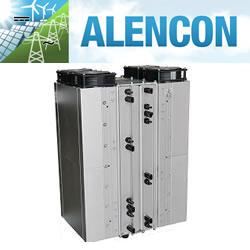 Alencon Systems is the premier manufacturer of high power, high voltage DC:DC optimizers for alternative energy applications including solar, battery energy storage, Microgrids, Fuel Cells and Electric Vehicle charging. Alencon's DC:DC converter offerings include the SPOT, BOSS and CUBE series DC:DC converters. The SPOT is a modular, uni-directional DC:DC solution ideal for solar applications. The BOSS is a modular, bi-directional unit for use with battery energy storage. The CUBE is a monolithic DC:DC converter which is available in both uni-directional and bi-directional modalities. Pictured above, is the Alencon SPOT.