Distributed Power Generation Offers New Opportunities for PV Module and Balance-of-Systems Providers
Santa Clara, CALIF, September 17, 2012—New photovoltaic (PV) projects on agricultural land are playing a pivotal role within the rapid growth of distributed PV power generation in China, with more than 300 MW of PV projects now being tracked in the NPD Solarbuzz China Deal Tracker report.

An increasing number of PV project developers in Central and Eastern China are now prioritizing these new opportunities, in particular in the provinces of Xinjiang, Hunan, and Hubei. The China Energy Conservation and Environmental Protection Group (CECEP) is currently targeting more than 100 MW of PV projects specifically within the agricultural segment.
According to Steven Han, analyst at NPD Solarbuzz, "The agricultural PV market segment in China was previously overlooked by downstream PV suppliers and installers. However, with the threat of anti-dumping actions from the United States and Europe potentially restricting their available sales channels, creating additional demand locally is now essential for both module and balance-of-systems suppliers.
"Greenhouses have become a popular choice for agricultural PV installations, because they offer benefits in addition to a supply of electricity," added Han. "PV panels located on greenhouses can shield the sunlight, replace building materials, and add to the overall aesthetics."
With farmland in short supply in Central and Eastern China, installing ground-mounted PV can be a challenge. Therefore, rooftop PV installations have become a higher priority, with the most attractive developments often combining agricultural applications with PV generation. This mutually-beneficial arrangement allows PV developers to benefit from the PV power generation while providing the farmers a revenue stream. An example is the 9.8 MW PV project by Zhongli Talesun and China Power Investment (CPI), developed in Changshu. In 2011, they mounted PV panels on the roof of a mushroom plant. Other smaller scale installations have been enabled by the Golden Sun programs.
Commercial agricultural PV projects continue to receive the backing of top-tier PV developers in China, and this new segment is forecast to grow rapidly in the coming years. Developers are trying to find additional land space in both central and eastern China in an effort to further boost domestic PV demand.
The NPD Solarbuzz China Deal Tracker reports on project activity in the non-residential segment, including utilities. The database includes a variety of parameters for every tracked installation, including the project name, project developer, owner or host, system size (MWp and average annual MWh), installed system pricing, system type (ground mount, rooftop, BIPV, off-grid), region, province, city, exact location, project progress, incentive program, installer, module and inverter suppliers, module type, project developer, and installer contact details.
For more information or to order the NPD Solarbuzz China Deal Tracker report, contact us at one of our seven global locations, email us at contact@solarbuzz.com, or call Charles Camaroto at 1.516.625.2452 for more information.
About NPD Solarbuzz
NPD Solarbuzz, part of The NPD Group, is a globally recognized market research business focused on solar energy and photovoltaic industries. Since 2001, NPD Solarbuzz has grown its client-base to include many of the largest global PV manufacturers, major investment banks, equipment manufacturers, materials suppliers, hedge fund companies, and a vast range of other multi-nationals. NPD Solarbuzz offers a wide array of reports, including Marketbuzz, an annual global PV industry report, and Solarbuzz Quarterly, which details both historical and forecast data on the global PV supply chain. The company's research also provides annual downstream PV market reports by region for Europe, Asia Pacific and US markets. In addition, Solarbuzz.com is a recognized and respected online resource within the solar industry. For more information, visit www.solarbuzz.com or follow us on Twitter at @Solarbuzz.
About The NPD Group, Inc.
The NPD Group is the leading provider of reliable and comprehensive consumer and retail information for a wide range of industries. Today, more than 2,000 manufacturers, retailers, and service companies rely on NPD to help them drive critical business decisions at the global, national, and local market levels. NPD helps our clients to identify new business opportunities and guide product development, marketing, sales, merchandising, and other functions. Information is available for the following industry sectors: automotive, beauty, entertainment, fashion, food, home and office, sports, technology, toys, video games, and wireless. For more information, contact us or visit npd.com and www.npdgroupblog.com.
Featured Product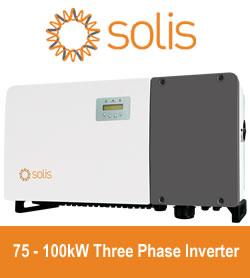 Solis75kW - 100kW series high-power string inverters are widely used in industrial and commercial rooftops. Solis's new three-phase string inverter is the first choice for industrial and commercial photovoltaics. 75-100kW three phase series string inverter have Maximum 28 strings input, support "Y" type connection in DC side. Maximum string input current 13A, support bifacial modules access.Supports anti-PID function to improve system efficiency.