Rotterdam / Zurich: Eneco Solar, Bio & Hydro BV ("Eneco") and SUSI Partners AG ("SUSI") have signed an agreement to cooperate in the pursuit of acquiring in photovoltaic (PV) assets in France and Belgium over the next 18 months.
Eneco currently owns and operates 20 MWp of photovoltaic power in the Benelux region. In line with the group's long-term growth objectives with respect to PV installations, ENECO seeks to further expand in the French and Belgian markets. Frans van de Noort, Managing Director Eneco Solar: "Energy is a vital commodity. We use it regardless of place and time. It sustains our work, lives and economy. Eneco ranks amongst the cleanest energy companies in Europe and we want to further improve that position. We make considerable investments in the generation of sustainable energy. Given the favorable market conditions, we seek to boldly increase our PV operations. SUSI's access to reputable PV players and knowledge in investment structuring makes them an excellent partner to facilitate our growth."

SUSI Chief Investment Officer, Otto von Troschke, on the cooperation with Eneco: "We are pleased to partner with Eneco in their pursuit of expanding their renewables operations. Their effort underlies the continued interest of utilities to secure wind and photovoltaic generation assets." With the Agreement, SUSI will also seek to increase photovoltaic holdings in the SUSI Sustainable Euro Fund I, a SICAV/SIF Luxembourg fund investing in onshore wind and fixed PV energy infrastructure in targeted European markets. Kai-Uwe Ricke, Board Member of SUSI: "Renewable energy and other sustainable energy infrastructures are largely being commercialized and integrated into our society, and are continuing to be sought after by both financial and strategic investors for their non-correlated and stable returns, which can replace less attractive country bonds."
ABOUT ENECO
The Eneco group (http://corporateuk.eneco.nl) focuses on energy saving, generating sustainable energy in collaboration with its customers and supplying clean energy (electricity, gas and heating). The Eneco group encompasses the companies Stedin (network management), Joulz (infrastructures) and Eneco (energy company). Based on its mission 'sustainable energy for everyone', the Eneco group invests in sustainable energy sources, energy solutions and infrastructure, with the aim to keep energy clean, available and affordable in the long term. Eneco group has approximately 7,000 employees, several hundreds of whom work outside the Netherlands. The head office is located in Rotterdam.
Featured Product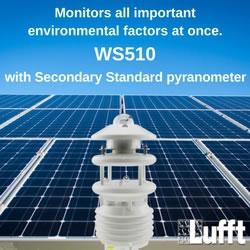 Professional weather sensors form the heart of large solar plants supporting their operation and performance. Lufft was the first manufacturer to combine several sensors in one housing, bringing the largest multiparameter weather sensor family with 19 members into being. Many of them are well-suited for solar site assessment and continuous monitoring. The most commonly used one is the WS600 delivering data on temperature, air pressure, wind, relative humidity and precipitation. Through its open protocol, it can easily be attached to radiation sensors e.g. from Kipp&Zonen. Other models have an integrated Silicon, Second Class or Secondary Standard radiation sensor.