Upsolar, a leading international provider of solar PV modules, was voted a winner of a Solar Industry Award for the second year in a row.
Upsolar, a leading international provider of solar PV modules, was voted a winner of a Solar Industry Award for the second year in a row. The company was recognized in the Industry Development category for its comprehensive life cycle assessment (LCA) program.

The SolarIndustry Awards – organized by the editors of Solar International (A PV Management Magazine) – honor the companies, products and programs driving innovation and spurring global solar adoption.A team of industry experts determines multiple finalists for each category, and overall winners are selected through a global online voting process.
As the Industry Development award winner, Upsolar's LCA underscores the category's theme of highlighting ideas and programs that "enhance the progress of the industry and market on a global scale." The company completed its in-depth study earlier this year to quantify and analyze the environmental impact of its modules, from the collection of raw materials to production, transportation and end-of-life procedures.
After a 10-month data collection process, in conjunction with its manufacturing platforms and with the technical guidance of Bureau Veritas CODDE, preliminary results indicated that each Upsolar module contributes an average of 1.101-1.251 kg/kWc of carbon emissions over its lifetime. The company will use this figure as a benchmark to optimize its processes moving forward.
A formal ceremony honoring awardees was held in Frankfurt on September 24 in conjunction with the 27th European Photovoltaic Solar Energy Conference. Project Development Director Sebastien Prioux accepted the award on behalf of Upsolar.
"Monitoring the true environmental impact of our business allows Upsolar to continuously and efficiently improve our operations and serve as a positive example for our peers, our customers and our planet," said Prioux. "Through our LCA and our greater commitment to sustainability, we hope to drive the solar industry toward a higher standard, where our processes become as clean as the energy we produce."
About Upsolar
Upsolar is a leading international solar module developer and producer, offering the solar industry's best quality / price ratio in the global PV market. With vertically integrated, diversified manufacturing platforms, as well as an R&D-supported quality control management system, Upsolar produces high quality, reliable solar modules backed by a world-class warranty, at competitive prices. Headquartered in Shanghai, Upsolar has offices throughout Asia, Europe and North America to support an international customer base, providing on-site technical support, customer service and product development teams. For more information, visit www.upsolar.com.
Photos/Multimedia Gallery Available: http://www.businesswire.com/cgi-bin/mmg.cgi?eid=50419620&lang=en
Contacts
Upsolar
Lucy Chen, +33 1 83 62 02 05
PR and Communication Specialist
lucy.chen@upsolar.com
or
Antenna Group for Upsolar
Kimberly Setliff, +1 415-977-1942
upsolar@antennagroup.com
Featured Product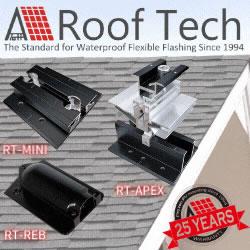 Now Roof Tech brings you the most innovative, watertight mounting systems ever developed for solar photovoltaic systems. Designed and manufactured exclusively for us by Japan's longtime leader in roofing technologies, Roof Tech products are 100% code-compliant and offer fast, simple installation and huge savings on shipping costs due to their compact, rail-less design. Learn more about our full line of versatile PV mounting solutions now available for residential installations. The next generation in rooftop solar mounting solutions."