President Dilma Rousseff has stated publically that a significant proportion of Brazil's economic development should be based on renewable energy- such dedication from the top should surely give a real boost to the solar sector in the country.
(26 September 2012, London, UK)

In the last quarter criticism has been thrown at the Brazilian market with local content rules being imposed to access the lowest cost finance. As with all new solar markets, the government is focussed on creating a domestic solar industry within Brazil- creating jobs for Brazilians and sinking investment straight back into the Brazilian economy.
It is sensible that they don't want to create an environment from which only the established solar giants of Europe and the US or the rapidly rising solar industry in China can develop and profit but are they doing enough to promote the solar industry? Are too many barriers being put in place too early on? Can the sector see the boom that wind saw in the country just last year?
The promise of a solar auction is proving incentive enough for some of Brazil's leading renewable energy companies. With already 1MW constructed and a license to extend to 5MW MPX Energia has released further plans to expand their Taua solar project to 50MW. At a recent shareholders meeting, the board of Renova Energia, one of the leading developers in the wind market unanimously approved a decision to move into the solar market and also discussed a proposal to expand into the production of solar cells, wafers, modules and inverters.
Renova Energia, CEO, Mathias Becker and MPX Energia COO, Marcus Temke will be just two of the speakers at the Solar Brasil congress occurring in Sao Paulo on 16-17 October. Held during the key utility consultation period on the new net metering legislation the conference will also be attended by top ranking officials from ANEEL, the country's major utilities and leading solar firms from Europe's Abengoa and Isofoton to China's JA Solar & Talesun.
Banks such as HSBC, Itau BBA and Caixa will also be attending the congress alongside the IADB, GIZ and local Brazilian funds to present the latest financing options on offer within the Brazilian solar market for both distributed and large scale solar development and to discuss how the Brazilian solar market can be competitive.
For those wishing to make sure that all their business is in order in Brazil and contacts for development and construction are in place, a few seats remain at this year's Solar Brasil congress.
As Latin America's largest economy and as a country lead by a President committed to renewable energy, few argue that within no time at all, Brazil will streak ahead as the continents leading solar market.
www.greenpowerconferences.com/solarbrasil
Featured Product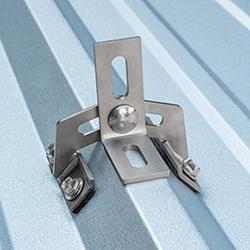 They have been changing the game for 10 years with their original Top Mount line for Asphalt Shingle roofs, and by now supplying one of the widest ranges of solar mounts in North America. From their patented products, to the custom production services they offer, QuickBOLT has been working with solar installers for nearly a decade to make solar installations easier than ever before.